If the sounds on this is good at all this is a very nice little gizmo. Clean looking and to the point.
-AR
---
Ultra-slender complete home theater system creates room-filling surround sound while virtually disappearing from sight as a base platform for flat-panel TV's
Submitted to HomeToys.com on: 11/19/2008, 4:08 pm

Swampscott, MA. November, 2008— ZVOX is pleased to announce the Z-Base 550, a complete home theater system built conveniently into a base platform for stand-mounted flat-panel TV sets. Based on several design innovations from ZVOX, the Z-Base 550 sounds absolutely terrific–reproducing music and movie soundtracks with lifelike accuracy. But the entire system–speakers, amplifier, virtual surround technology and powered subwoofer–fits into a super-slim cabinet engineered to accommodate the heft of virtually any flat-panel TV.
"As the prices of flat-panel TV's have come down, more and more people are buying them, however fewer and fewer mount them on walls," explained ZVOX founder Tom Hannaher. "The Z-Base 550 has been designed specifically to address this trend in the marketplace—our extensive research indicates that the Z-Base 550 will accommodate almost all of the top-selling flat-panel TV's between 32″ and 47″ in diagonal measurement," Hannaher stated.  continued….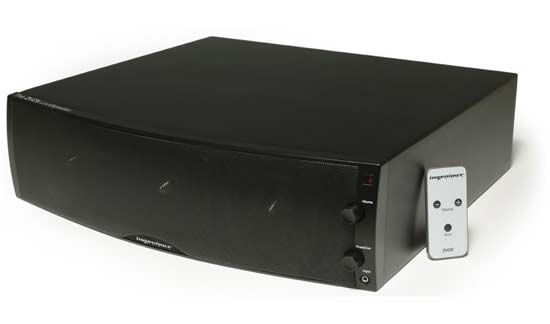 Stats:
Energy Star qualified power supply
The ZVOX Z-Base 550 HSD system uses an Energy Star qualified power adapter for increased efficiency and long-term energy savings.
Specifications
• (5) 2″ full-range speakers and (1) 5.25″ subwoofer
• PhaseCue virtual surround sound
• Auto-on/auto-off circuit
• Remote control included
• (2) Analog stereo inputs (mixing inputs)
• Power: 60 watts
• 28″w x 14.5″d x 3.5″h
source: hometoys.com