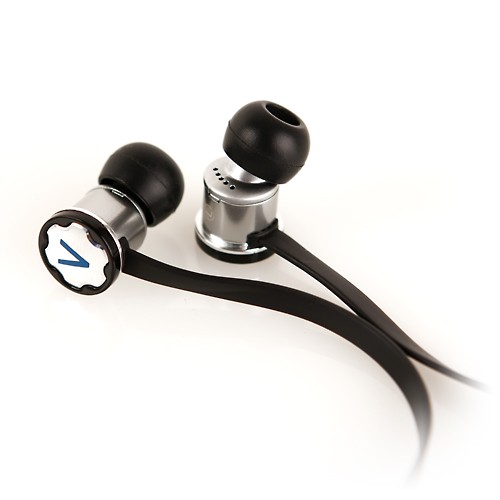 Legendary subwoofer manufacturer brings superior bass technology, performance to the first product in a new line of headphones
Morgan Hill, Calif. – November 23, 2011 – Velodyne, one of the world's leading manufacturers of audio products, has introduced vPulse, the first product in a new line of high performance headphones. The vPulse in-ear headphones utilize nearly 30 years of acoustical innovation from Velodyne to deliver unmatched high definition sound directly from all of today's favorite portable media devices and audio/video products.
"For nearly three decades, Velodyne has made home entertainment products that resonate—quite literally—with the listener," said David Hall, founder and CEO of Velodyne Acoustics. "With the introduction of vPulse, we are now able to bring the bass, and that same visceral listening experience we all crave, even closer to the listener."
vPulse in-ear headphones bring Velodyne's legendary bass performance right to the listener's ear thanks to the aluminum driver housing and 10 mm driver, which combine to produce precise, low-distortion bass and superb sound quality.
The in-ear headphones' sleek design significantly reduces outside noise interference, allowing listeners to enjoy music and movies with more clarity and detail. Additionally, the in-ear headphones' pressure-relief system reduces air pressure within the ear canal, ensuring a safer and more comfortable listening experience.
vPulse in-ear headphones are connected to music and video content via their durable, flat tangle-resistant cable. This sleek and rugged cable, available in Velodyne's electric blue and black, also features a built in control unit for convenient control of playback, volume, tracks and even a button to enable users to answer their phones.
Product Specifications
Frequency Response: 20-20 kHz
Sensitivity: 98.8 dB/1 mW
Noise Reduction: 15 dB at 1 kHz
Impedance: 16 ohm
Driver Unit: 10 mm
Cable: 43.5" (1.1m)
Plug: Gold-Plated 1/8" (3.5 mm)
vPulse from Velodyne is currently available at http://www.velodyne.com for the price of $89.00. The in-ear headphones will be available at Velodyne retailers in the near future.
About Velodyne
Velodyne Acoustics, Inc., founded in 1983, is universally recognized as the leading manufacturer of high-performance, low distortion powered subwoofers at all price levels. Headquartered in Silicon Valley, California, the company's technically innovative audio products are available through a select group of authorized dealers, custom installers, and distributors worldwide. For more information visit www.velodyne.com.