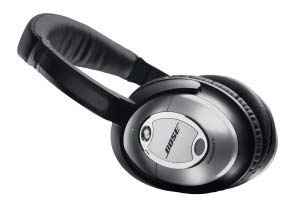 New Bose QuietComfort 15 Acoustic Noise Cancelling Headphones
The Quietest Bose Headphones Ever
FRAMINGHAM, Mass.–(BUSINESS WIRE)–Today, Bose has introduced the QuietComfort® 15 Acoustic Noise Cancelling® headphones, its best-performing, quietest headphones ever.
The new QuietComfort 15 headphones are the result of more than 30 years of continuous Bose research in noise reduction technology –- research that pioneered the category and has since led to breakthroughs for military applications, pilots and consumers.
Through significant engineering advancements in active and passive noise reduction technologies, the QC®15 headphones offer more attenuation in louder environments and across a wider range of frequencies — without compromising the audio quality and comfortable fit of the acclaimed QuietComfort headphone line.
"We believe the QuietComfort 15 headphones offer a combination of benefits unmatched in the industry," said Sean Garrett, general manager of the Bose Noise Reduction Technology Group. "We've applied our research in noise reduction using an integrated systems approach -– an approach as proprietary as our technologies. It requires meticulous engineering to ensure all elements of the headphone work together to achieve our very ambitious performance requirements."
New Noise Reduction Technology: Only From Bose
The QuietComfort 15 headphones debut a more sophisticated, proprietary electronics approach to active noise reduction, placing microphones both inside and outside the earcup. This electronics system better senses the sound in almost any environment and then more effectively measures, compares and reacts to the noise –- instant by instant –- to produce an opposing cancellation signal.
New proprietary ear cushion technology provides additional passive attenuation. It features a new mechanical design and uses materials selected for specific acoustic properties to block more noise from entering the earcup.
Through research in user testing, the QC15 headphones overcome the inherent challenge of all headphones –- the performance variation from user to user, caused by the difference in head shape and size. Bose engineers used a proprietary acoustic design to deliver a consistent experience for all owners.
The resulting performance is demonstrable. The engine roar fades further away, there is less distraction at work or at home, and when music is preferred, it is heard more clearly: within a quieter environment, more definition and detail are revealed.
The QC15 headphones benefit from decades of research in on-head audio. Proprietary active equalization technology electronically tunes the frequency response of the headphones, ensuring the accurate reproduction of instruments and vocals. Bose TriPort® acoustic headphone structure is incorporated, a technology featuring small ports in the earcups that dramatically increase the low-frequency output of the system. Deep low notes are delivered naturally, without a manufactured "boost" and without increasing headphone size or weight.
The QuietComfort 15 headphones feature an around-ear design that maintains the renowned comfort of its predecessors. A single earcup cable can be detached for untethered noise reduction. Once the cable is removed, listeners need only flip a switch on the right earcup to activate the proprietary technology.
A single AAA battery powers the QC15 headphones for approximately 35 hours of use. The green on/off indicator light flashes when there is approximately five hours of battery life remaining. For compact storage, the earcups rotate to a flat resting position and fit easily into the provided newly designed carrying case.
Bose: 30 Years of Noise Reduction Firsts
On a flight from Europe to Boston in 1978, Dr. Amar Bose had his first experience with electronic headphones. Disappointed in their performance, he initiated a research program at Bose to develop a headset that would reproduce speech and music with high fidelity — and significantly reduce unwanted cabin noise.
In 1989, the first commercially available Bose active noise reduction headset was introduced. Since then, Bose engineers have developed additional products for the aviation and military markets: the Combat Vehicle Crewman headset, Aviation Headset X®, Performance Improved Combat Vehicle Crewman headset, and TriPort® tactical headset.
Bose engineers leveraged this research and applied it to a consumer headphone. In 2000, the QuietComfort Acoustic Noise Cancelling headphones were introduced, beginning an industry revolution. Today, Bose QuietComfort headphones enjoy worldwide recognition and the consumer following of an iconic product.
The new QuietComfort 15 Acoustic Noise Cancelling headphones replace the QuietComfort 2 Acoustic Noise Cancelling headphones. They are available in silver, beginning August 20, 2009 from Bose for the same price as their predecessor: $299.95. The QuietComfort 3 Acoustic Noise Cancelling headphones (featuring an on-ear design) are available for $349.95. Bose QuietComfort headphones are sold at select authorized Bose dealers, Bose retail stores, www.Bose.com or toll free at 1-800-444-BOSE (2673).
About Bose Corporation
Bose Corporation was founded in 1964 by Dr. Amar G. Bose, professor at the Massachusetts Institute of Technology. Today, the company is primarily known for its research in acoustics, which has produced inventions that have improved the performance of:
* Loudspeakers
* Home entertainment systems
* Automotive music systems designed for the interior acoustics of each car model (first introduced by Bose)
* Noise reducing headsets for pilots and the public (first introduced by Bose)
* Sound in public spaces
* A new approach for the production of sound for musicians requiring electronic amplification of their instruments
* Materials testing and durability simulation instruments for biomedical applications
source: BUSINESS WIRE
Check out other headphones from Bose on AudioREVIEW