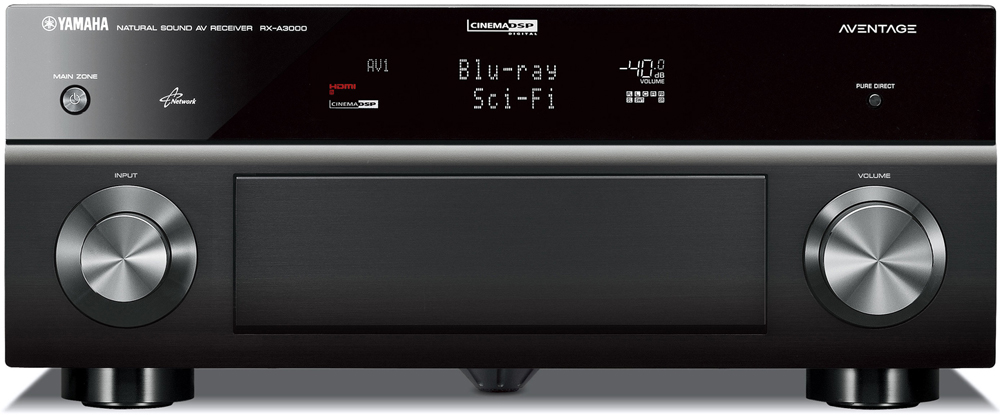 AV receivers are constantly changing, constantly leap-frogging one another in features and capabilities. This year Yamaha announced its Aventage (RX-A) line and, in the process, jumped over a lot of the competition. And not a little jump, more like an Olympic gold medal long jump. Much of that jump is simply in the way of value – we mean the Aventage line in general has build quality and features that seem like it should cost a lot more than it does. The RX-A3000 takes that to the 'nth' degree. There are five receivers in the Aventage lineup and the RX-A3000 is the flagship. This 11.2 channel (140wpc x 7) A/V behemoth has endless configuration options, including dual independent subwoofer outputs, full power amp assignability, simultaneous usage of front effect and back channels, full 3D support, and HDMI Standby with switchable inputs even when the receiver is powered down. If you're ready for the future, the RX-A3000 is ready to serve you in every capacity. It has proven itself to be a worthy and most importantly less costly successor to the venerable RX-Z7.
Continue Reading @ Audioholics
Key Features:
Price: $1799
usa.yamaha.com

Compatible with Windows 7
HDMI (V.1.4a with 3D and Audio Return Channel)
HDMI CEC functionality
HD Radio with iTunes tagging
Video Adjustment Preset
many, many more…
About Audioholics.com -Audioholics.com is the largest audited home theater A/V publication online with over 1.1 million monthly readers. Founded in 1999, Audioholics provides more in-depth non-biased professional reviews, tech articles, daily news, how-to's and buying guides than any other site of its kind. It empowers readers who are making purchases and inspires readers who are striving to maximize their A/V experience.
Top Ranked Products from Yamaha.
Featured Merchants