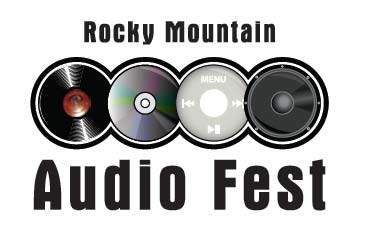 I'd say the drugs kicked in about 4am when my modern marvel of a cell phone started chiming it was time to wake up.  My brain was foggy, exhausted and on the verge of being snuffed out. But at least I woke up without a debilitating neck cramp like the morning before.  I hate you couch! I opened my eyes trying to snap out of the haze but my body forced me to stayed on my air deflated mattress, in the middle of my friends living room, till I heard the cracking sound of footsteps coming from the ceiling above. Ok, I said to mysel. Javi is up. It is time to get moving.   I have a plane to catch in two hours and this thing called Rocky Mountain Audio Fest to cover for the next three days. It is supposed to be an amazing event. And I hope so because I'm already running on empty.
The airport was a blur and the caffeine wasn't kicking in like it should. All I pretty much remember from the SuperShuttle ride from the Denver Airport to the DTC Marriot Hotel was a small guy from New Jersey talking, a lot. Much more than I think everyone else in the shuttle figured was necessary for 8am. But his enthusiasm started to seep into me and if the standard pick me up of caffeine wasn't going to do it, at least I could leach off the excitement of others.  And this guy had enough to share.
Once we arrived it was apparent why RMAF is held at the Denver Tech Center Marriot Hotel. This place was huge. Vegas style huge. No, scratch that. Not Vegas style huge, it Texas style huge.  I think one could spend all three days of the show inside and never have a need to venture out.  Everything you needed was indoors and it was easy to get lost.  It was a trap.  Poor suckers.  Fortunately for me I was booked down the road, but I couldn't get in and stow my luggage till 3pm. Right than and there I decided I would abused the Marriot's courtesy bag check for the entire weekend. Thanks Marriot, your front desk staff gives great service.
Unfortunately whatever was in me from 4am was still hanging about. Pushing my eyes closer together, narrowing my field of vision, and making every step harder than it needed to be. I was at the show though, so I got the camera out and started ping ponging from place to place. Â I need some energy, I needed it badly, and I needed see what others were excited about.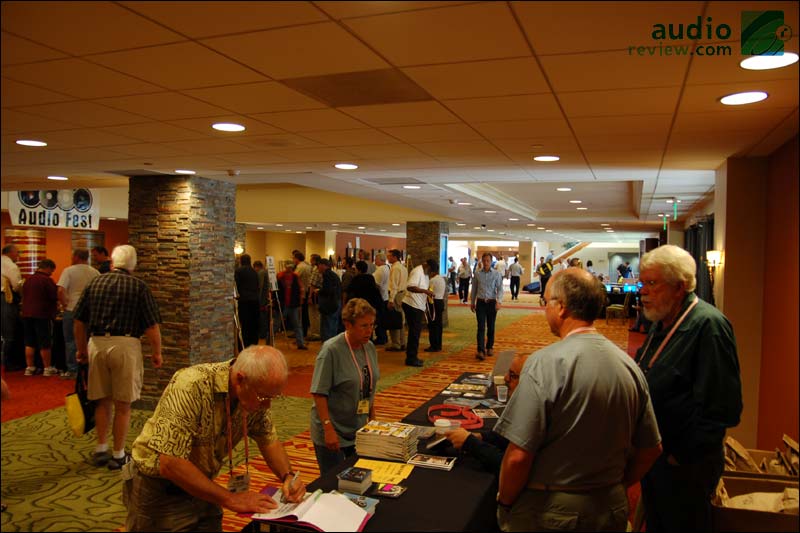 For a Friday morning at 9am the lobby was already getting packed. Some early morning manufacturers had their displays out. There was a large hall for vinyl, CD and some component sales. I knew I was in the lair of the audio-nerds, the first thing anyone said that pierced through the fog was "American vinyl was good until '72 at which point they started using recycled….' Really, was it going to be one of those weekends?
I'm sure that AudioReview forum users like Poppachubby would have been in heaven in a room like this. Â Hint, hint, you are coming for RMAF 2011 aren't you?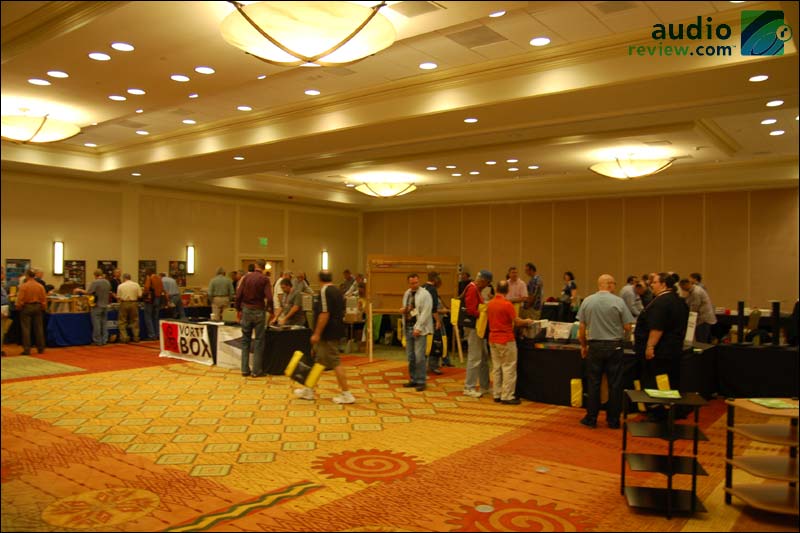 I stumbled upon the table of Andrew Gillis, the president of Vortex Box.   He manufactures a consumer level media server and designs software to run the whole thing.   The Votex Box comes with a dual layer DVD drive, 1TB or 2TB storage disc options, and uses the Realtek ALC883 for on board audio. It appears to have an amazing amount system of compatibility options.  Read the features here. You can just use the Vortex Box software to convert an old home PC into a media center. Check out the Vortex Box website.  I'm working on sourcing one for a future review.
Next to Andrew and using Vortexbox software was the SONORE media server by Simple Design. This takes the Vortex Box software and puts it on an audiophile level hardware to make a media server that is not too pricey.  $2-4K depending on options. Check out the SONORE site here.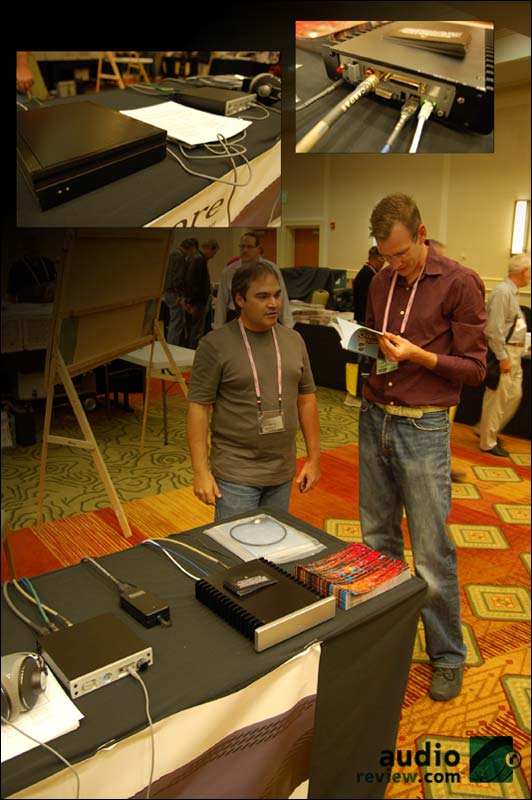 Andrew is clearly excited about his products, which was great, because that got me a little bit more out of my fog and excited about his products as well. Â But can't you just see a couple JRDG 102 mono blocks and a pre stacked up on that SONORE silver face plated media server? (not the Benchmark – the other silver face plate at the end of the table)
Across from plethora of vinyl and Vortex Box table was Lavry Engineering.  I hadn't heard of these guys but I was happy to sit down in a chair and let the young man there explain to me what he were showing off.  The DA11 (visit the DA11 product page) is an interesting stereo converter.  Most notably it can widen to constrict the stereo image of sound passing through it by blending the channels together.  No signal processing or filtering that could ruin the quality of sound.   Also you can reduce one channel or both channels individually. Why would you want this?  Well, if you have a piano peace that was engineered to make the piano seem larger than it really should be, you can constrict the stereo image to make it sound more realistic in size.  Not a bad idea.  The only thing I didn't like too much about the DA11 was the clickers to change the image size.  I think some round knobs would be much better and easier to use.   Check out Lavry Engineering online.  It sounded fine, my mind honestly was just waking up, and I was happy to have a place to sit, listen, and finish my coffee.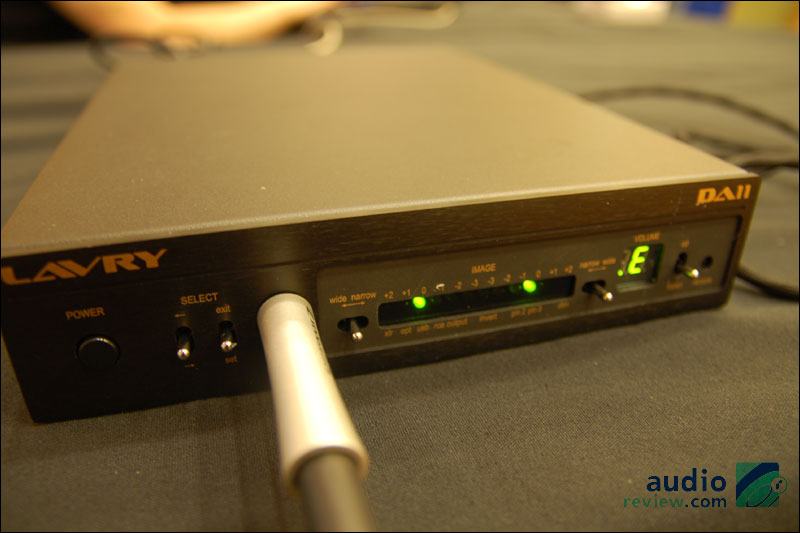 A little more awake I dragged my feet around the lobby a bit more. It wasn't 10am yet.  Couldn't head up to the listening rooms yet.  I was wondering around slightly aimlessly, still having trouble focusing, when I over heard something interesting coming from the Parts Express booth.  My ears perked up when I heard a price of $300 for this acoustic measuring tool.  The OMNIMIC system has an; SPL meter, Spectrum Analyzer (FFT or RTA), Oscilloscope, Harmonic Distortion (THD) RT60 reverberation and Bass Decay features.  It seems to be only PC compatible.  Sorry Mac fans.  It should be available starting in Nov 2010 from PartsExpress.com.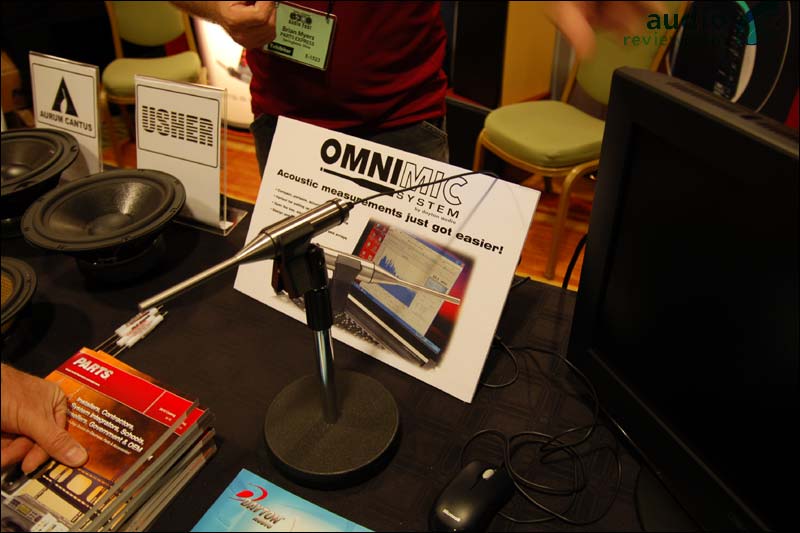 Finally 10am was here. Â I was in shock it was only 10am, my body was telling me it was much later. Â Time for coffee number two.