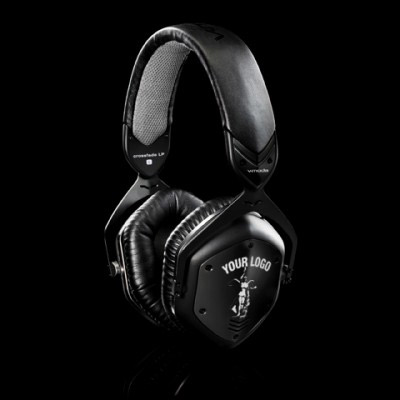 Latest addition to the V-MODA arsenal boasts stylish minimal design, military-level durability, and advanced customization 

Los Angeles – November 16, 2011 - V-MODA, the multi-platinum seller of the world's finest headphones, unveils the latest in its "Live PlayTM" series – the over-ear Crossfade LP2 Metal Headphones. Fine-tuning the design and customization options of the now legendary Crossfade LP, the special edition Crossfade LP2 brings legendary DJ-approved acoustics, virtually indestructible military-grade durability and customization options out of the box.
"The original Crossfade LP has become number #1 headphone of choice for 
professional performers, DJs, celebrities
, and sound-minded individuals by virtue of its tank-like durability, live sound and variety of finishes" says Val Kolton, V-MODA CEO and DJ.  "LP
2
 transports this philosophy to another dimension by removing virtually all of our own branding and focusing on what matters most – you."
endorse yourselfTM
In a carbon copy world of "celebrity" headphones, V-MODA's endorse yourselfTM customs program gives customers and performers the option of expressing themselves.  Users can choose from an array of over 12 colors of interchangeable ear shields that can also be professionally etched with their own artwork and logos, letters or numbers. V-MODA's endorse yourselfTM program is also available to existing V-MODA Crossfade series customers.
Details of colors and options are at V-MODA.com/endorse-yourself
Live PlayTMÂ Sound
A refinement to the critically acclaimed sound of the Crossfade LP, the heart of the Crossfade LP2's Live PlayTM sound signature is its patent-pending and biggest-in-class 50mm Dual-Diaphragm Drivers and V-PORT 3D staging. This innovative driver displacement is energy efficient yet can recreate the sound of multiple drivers with the quality and consistency of a single driver. The driver's diaphragm is constructed of a harder inner ring for mids and highs and a soft outer ring dedicated to deep bass extension so you can actually feel the music, even with low powered sources.
V-MODA's labs, over years of research, found that many headphones artificially spike the highs above 8kHz to make up for older recordings, hearing loss and for users who listen at lower volumes. The Crossfade LP2, is however, fine-tuned with a 31-band EQ, which plays a vital part in creating it's unique Live PlayTM sound signature while protecting the ears from permanent hearing loss or damage.
Military-Grade Durability

The Crossfade LP2 is tested under strict MIL-STD-810G military testing and V-MODA's even tougher VMQA guidelines, of which a few are listed below
Kevlar® reinforced detachable cables and 45-degree plug strain relief can each bend over 1 million times, over 100x industry standards

Survives 70+Â drops on concrete from 6 feet, approximately 3x the industry standard

Headband can bend 10+Â times flat, not break and retain its memory and shape

Virtually inaudible sound variances across the spectrum of less than 2dB from unit to unit versus 10-30dB+Â of inferior products


MIL-STD-810G environmental tests including high and low temperatures, humidity, salt spray and UV exposure




Essential Ergonomic Comfort

Replaceable supple memory foam ear cushions isolate noise and immerse you into your own world of sound. Relentless research went into the precise shape and materials of the headband and ear cushions, resulting in a tailored, fashionable fit without unsightly gaps and minimal pressure on the head and ear. Although they deliver big sound, the Crossfade LP2Â is extremely lightweight in design and perfect for hours of immersive listening.
trueHERTZTM – The Revelation of Headphones
Most headphone marketing simply does not tell the whole truth. Headphones often break too fast in and every unit sounds different due to quality control variance and individual fit. Upon this revelation over five years ago, V-MODA invested heavily on quality engineering and its own R&D labs to create a rugged product that provides the greatest sound for the greatest amount of people. Follow the trueHERTZ blog to learn more at 
http://v-moda.com/truehertz
Crossfade LP2Â Features
Stylish interchangeable shields (matte black installed and gunmetal colors included)

Detachable Kevlar®-reinforced cables with 24k gold-plated plug

One 3.5mm fabric cable with a 3-Button remote control optimized for Apple products including iPhone, iPad and MacBooks

One 3.5mm fabric audio cable universally compatible with all audio, tablet and smartphone products with a 3.5mm port including Android, BlackBerry® and Windows Phone

Hard exoskeleton carrying case, ensuring headphones are protected in style

2-Year V-MODA Premier Warranty

Immortal Life Program – 50% off lifetime discount to replace consumer-damaged headphones


The Crossfade LP2 is available today at V-MODA.com and select retailers worldwide including Amazon.com, Microsoft Store, Guitar Center, and Newegg for $199 including two sets of plates.  An additional set of color shields is $25 and can be customized with your own logo for $45.  For more information and a brief video demonstration, visit www.v-moda.com/lp2.
ABOUT V-MODA
V-MODA is the maker of the finest professional quality and modern audiophile products. It's products are distinguished by an extreme passion for music, materials, fashion-forward design and unparalleled quality. Led by professional DJ and Chief Visionary Officer, Val Kolton, V-MODA products blend the inspiration of Italian design, the essence of music, and the charisma of Hollywood. Together with design extraordinaire Joseph Bucknall, the world's most influential producers, musicians and DJs, V-MODA is constantly challenging the norm and forging the remix revolution. For more information, please visit V-MODA's website, V-MODA.com.