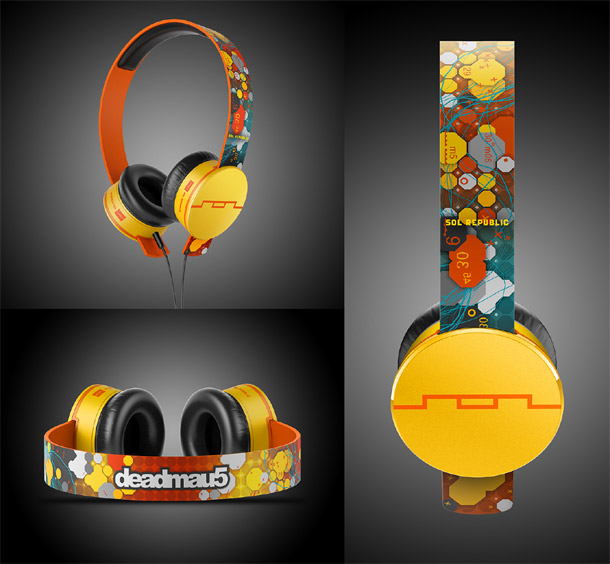 SOL REPUBLIC AND DEADMAU5 LAUNCH GROUNDBREAKING HEADPHONES CONVERGING TECHNOLOGY, MUSIC AND ART
The high-definition headphones deliver dramatically enhanced audio
and a design by renowned digital artist Joshua Davis

San Francisco, CA, August 16, 2012 – SOL REPUBLIC, committed to changing the world one listener at a time with high-quality headphones, today announced the deadmau5 Tracks HD headphones, produced in close cooperation with the multiple award-winning electronic music artist, and digital artist Joshua Davis.
Kevin Lee, SOL REPUBLIC CEO, said: "We didn't want to make yet another artist headphone for namesake.  However, some music artists are truly creative beyond music and have an interesting artistic view.  Joel Zimmerman is one of them. What he created in the end with Joshua Davis is very cool interpretation of the world of Deadmau5, part controlled part not, which in itself says something.
We're excited that Joel liked our Tracks headphone, the sound of it, look of it, and wanted to use it as a creative canvas.  Like most art, it wasn't designed for everyone. But for the deadmau5 fan and certainly for Joel Zimmerman, it's a strong expression of sound and personal style, which is why we love it."

Unique Design
Part illustration, part computer "controlled randomization" Joel Zimmerman aka deadmau5 and Joshua Davis, a frequent collaborator of deadmau5, worked together to create a digital interpretation of the world around deadmau5 that Joshua best describes as a "beautiful accident". 
Signature Sound
Not only can the Tracks HDs handle all the dynamics and powerful bass of deadmau5 music, the design is a fun, energetic visual view point of Joel's music and his iconic "mau5head".
Like all SOL REPUBLIC Tracks HD headphones the deadmau5 model features v10 Sound Engines, for deeper bass, higher clarity and crisp vocals. Also, the Sound Engines, the virtually indestructible FlexTech™ headband and the detachable cable with three-button remote and mic are completely interchangeable with all other SOL REPUBLIC Tracks products.
The SOL REPUBLIC deadmau5 collaboration Tracks HD headphones are available now at major retailers worldwide including The Apple Store, FYE and Guitar Center and online at SOLREPUBLIC.com for $149.99 MSRP.

About SOL REPUBLIC
SOL REPUBLIC is global consumer electronics company dedicated to enhancing people's lives through better-sounding headphones. Comprised of music fanatics, SOL REPUBLIC develops its products from the ground up to make headphones that look, sound and feel unlike anything else in the market. SOL REPUBLIC has offices in California, Oregon and New York City and is developing an army of music fans in its worldwide social media communities.