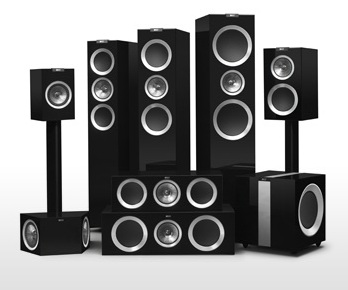 Marlboro, N.J. – May 17, 2012 – KEF, the renowned manufacturer of innovative, reference-quality loudspeakers for over 50 years, will present a full range of award-winning products, including KEF Blade, the world's first single apparent source loudspeaker, to attendees of T.H.E. Show., held June 1-3 in Newport Beach, Calif.
In addition to the KEF Blade, KEF will offer attendees to the show an intimate demo of R Series, high-performance speakers that represent a decisive step forward in the enjoyment of music or movies by incorporating the high-end technologies of KEF Blade in a classically stylish format.
Presented at the show alongside the latest equipment from Chord Electronics and WireWorld Cable, KEF Blade will offer attendees the highest quality sound reproduction available through KEF's Single Apparent Source technology. Single Apparent Source technology ensures the entire frequency range radiates from one point in space, creating a sound picture that is virtually indistinguishable from a live performance. KEF Blade is further enhanced by a glass-reinforced composite cabinet that matches the speaker's high performance sound quality with elegant industrial design.
The KEF R Series–which will be used with products from Parasound and WireWorld–combines fluent Uni-Q driver arrays with new bass drivers and several of KEF's latest innovations in premium high fidelity and home entertainment loudspeaker technology. Attendees of T.H.E. Show will see how the R Series creates a rich, spacious sound image that approaches the benchmark standards of KEF's legendary Reference Series while still seeking to make higher-end audiophile standards of sound reproduction more affordable.
Attendees can experience the KEF demo throughout the show at the Hilton Hotel, Rooms 303 and 305.
About KEF
KEF's ethos has always been based on the continuing quest to find new and better ways of reproducing sound. Since the company's establishment in Maidstone, Kent in 1961 by Raymond Cooke O.B.E., KEF has maintained a flair for unusual and controversial speaker engineering, design and material use. KEF has always driven innovation in sound with examples including its iconic 'egg', Muon and Blade speakers. KEF is part of Gold Peak Group and its products are available in more than 60 countries. In 2011 KEF celebrated its 50th anniversary and is still committed to building on its strong heritage. www.kef.com  
About KEF America, Inc.
KEF America, a division of KEF Audio, offers loyal North American audiophiles a line of innovative speakers and components unmatched in the industry for quality and innovation. Headquartered in Marlboro, New Jersey, KEF America shares the same guiding principles as its British counterpart: ground-breaking design, exceptional sound and an unshakeable commitment to excellence. For additional information about KEF and its award-winning products and unique technology, please visit www.kef.com.