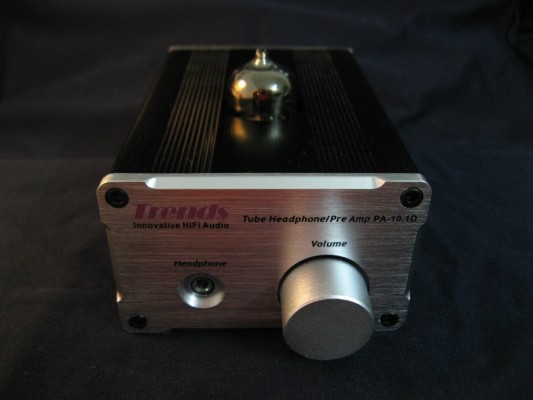 Hong Kong, October 20, 2011 – ITOK Media Limited's innovative Hi-Fi brand "Trends Audio" (www.TrendsAudio.com)launched its new innovative Hi-Fi product – Trends PA-10.1D Tube Headphone/Pre Amplifier. It provides all functions of headphone amplifier and pre amplifier as well have fun tube rolling. New Trends PA-10.1D includes a swithchable input(CD/DAC or PC/iPod)and two inputs for targeting Bi-amp audio system below US$1,000 budget. Meanwhile, it applies ELNA capacitors which result in improved transient performance, enhanced spatial accuracy and low frequency realism.
"With pure class-A circuit and low voltage hybrid (tube/transistor) preamp provides audiophile quality sound and easy/safe DIYer accessibility, new PA-10.1D Tube Headphone/Pre Amplifier is an affordable and compact hybrid pre amplifier and the economical way to enter the true high fidelity headphone system." say David Ho, the marketing director of Trends Audio. "As you know, the Hi-Fi product is no longer <>. In addition, changing different tubes to taste for different sound is the great fun for many audiophiles and also a great feature of Trends PA-10.1D. A creative device that you can use to add color to individual tracks. As the sonic differences of individual pre amplifier become more apparent to your ears, you can begin to see them as colors in your sound palette, using them on different tracks and in different settings to build a distinctive sound."
Features
support both 6DJ8/6922 series and 12AU7 series tubes by simply switching the jumpers.
the innovative circuit design of low voltage hybrid (tube/transistor) pre-amp to provide audiophile quality sound.
ONE bi-triode 6DJ8/6922 or 12AU7 tube as voltage amplification and TWO MOSFETs as output driver which perform the warm, comfortable tube sound and in addition, guarantee the high fidelity & sufficient driving power to the next power amplifier stage.
Besides the normal audio output in the back panel, ONE headphone output in the front to drive even high-impedance audiophile-grade headphones.
compact design (mini-size & light weight), suitable for hi-fi room, living room, sleeping room or even right beside your laptop computer or iPhone-Fi.
TWO precise screw-driving potentiometers for professional audiophiles to adjust the tube*s bias voltage to guarantee the best working point for different tubes.
require just a single +24V power supply ONLY, besides the bundled AC adaptor, audiophiles can apply all other power supply with the same spec., e.g. lead-acid batteries.
a specially designed AC power adaptor with extra low ripple & noise for Hi-Fi device is bundled for continuous power supply
separate pre-amp unit & power adaptor to minimize interference and flexible to apply other power sources, e.g. lead-acid battery.
all audiophile-graded parts and components
new stylish aluminium case(4mm thick) provides outstanding shielding & grounding capability to keeps the background silent and maximize the S/N ratio.
Comparison between Trends PA-10 and Trends PA-10.1D
Model
Trends PA-10 SE/GE*
Trends PA-10.1D SE/GE*
Tube
Russian 6H23n/
U.S.A 12AU7
Russian 6H23n /
U.S.A GE 12AU7
Audio output Capacitor
EVOX cap (White)
ELNA
Input
Two (CD/DAC & PC/iPod)
One (swithchable) (CD/DAC or PC/iPod)
Output
One
Two
Volume Control
ALPS
ALPS
Weight
380g
400g
Front View
Back View
MSRP Price(US$)
$265
$299
Trends PA-10.1D Tube Headphone/Pre Amplifier will be available in November and the suggested retail are Special Edition US$299 (with Russian 6H23n tube)and GE Edition US$299 (with USA 12AU7 Tube) and it may be the first and the most competitively priced Tube Headphone/Pre Amplifier for Hi-Fi and iPhone-Fi market. For more information or interested to become their resellers, you can visit their web site athttp://www.TrendsAudio.com or by phone (852)2566-5810 or by email at sales@TrendsAudio.com
About Trends Audio.
Trends Audio is a Hong Kong based company working in audio/video and multimedia production. Since the release of Trends TA-10 Class-T Stereo Audio Amplifier in 2006, Trends has received many prizes from Hi-Fi Magazine and Hi-Fi community worldwide. Trends Audio's products have become legendary for their compact design, performance and reliability in high end audio market.
---
Please feel free to contact us if you would like to have an interview with us or need some screen shots for this Press Release or request a FREE trial of Trends PA-10.1D Tube Headphone/Pre Amplifier. For the high resolution of screen shots, please download the file as follows:
PA-10.1D Tube Headphone/Pre Amplifier(Screen Shots)