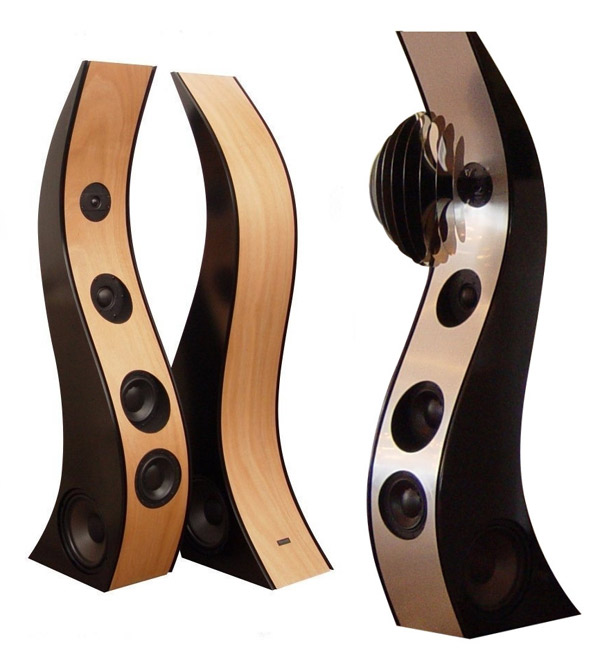 The Mansberg 'Sinus' is a unique floor standing loudspeaker that combines a graceful appearance with high quality drivers.
It is a four-way, five-driver speaker system, incorporating a 10″ woofer and dual 7″ mineral filled polypropylene cone midrange drivers in a sub-enclosure.
The made-in-Holland Sinus is clearly a high-end loudspeaker – and looks like one.
What sets the Sinus apart is the philosophy of avoiding parallel surfaces while paying meticulous attention to cabinet design and construction. This design minimizes unwanted internal vibrations. Two of the units are sunken deep into the front of the cabinet, which not only looks striking, but also positions the drivers at precise angles for optimum imaging, both on- and off-axis.
Due to the precise time alignment, low-level ambient cues integrate perfectly with primary sound staging. Superior components and meticulous configuration result in high frequencies which are detailed but not exhaustive, and a smooth life-like midrange.
The Sinus is not only aesthetically appealing, the performance is beautifully balanced, dynamic, and downright seductive.
Mansberg has earned a reputation for offering a remarkably high standard of personalized services and products.
There aren't many exceptional loudspeakers out there. The Sinus is one of them.