– SR5006 and SR6006 Bring Consumers and Custom Integrators Elegant New
Solutions for Building Ultimate-Quality Home Entertainment Systems –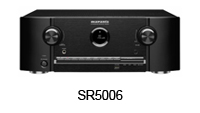 June 21, 2011 — SR6006 (SRP: $1,199.99) and the 100 watt-per-channel SR5006 (SRP: $799.99) both provide consumers with leading-edge feature sets, while delivering heightened levels of performance, convenience and flexibility Notably, both new receivers allows users to stream their iTunes music from their Mac or PC, as well as music stored on their iPad, iPhone or iPod touch with Apple's AirPlay®*.
Both models boast an aesthetically pleasing elegant design featuring the recognizable Marantz® star and porthole display, along with beneficial features like built-in HD radio tuners, multiple HDMI 1.4a inputs (6 in the SR5006, 7 in the SR6006), Bluetooth capability and more.

HDMI 1.4a, 3D Capability, Front-Panel USB for Apple Devices
Several innovative advancements make the new Marantz receivers ideal for building expanded home entertainment networks. For example, with their HDMI 1.4a (3D/Audio Return Channel) repeating capability, both models allow users to connect two separate displays and switch from one to the other without changing cables. In addition, both provide upscaling of the HDMI signal to HDMI 1080 video signal. The SR6006 includes seven HDMI v1.4a inputs (and dual outputs) with 3D (all mandated formats), as well as DLNA v1.5 (Digital Living Network Alliance), ensuring smooth content sharing among connected devices, while the SR5006 features six HDMI inputs. Both also feature front-panel USB inputs that are compatible with the iPhone and iPod Touch, and support playback of MP3, WMA and WAV files, as well as provide playback control via remote (Play, Stop, FF, BWD, Skip Forward, Random and Repeat Play), while showing music track information on the unit's newly designed Graphical User Interface.
Making Internet Content More Accessible; "Setup Wizard"
Marantz is committed to offering its customers new ways to bring more content from Internet sources into user's home entertainment systems. To this end, the SR6006 allows for streaming of Pandora, Rhapsody, Napster and Flickr as well as audio and photos directly from PCs. Users have access to over 14,000 Internet radio stations and a variety of content providers such as the Rhapsody and Napster music services**.
For unprecedented "out-of-the-box" ease of use, both receivers feature Marantz' onscreen "Setup Wizard," an easy-to-use instructional feature that includes language select, speaker connection and calibration guide, speaker calibration, plus Dynamic Volume/EQ settings, source setup and more.
Audio Technologies are Paramount in New Marantz Receivers
Marantz is a company that made its reputation in high-end audio, and the company's new A/V receivers reflect this unmatched expertise in a variety of innovative and useful new ways. The SR6006, which provides users with a three-zone audio networking solution and the SR5006, which offer two-zone audio networking, both feature advanced processing and sonic enhancement technologies to ensure a superior listening experience and compatibility with today's highest quality sound formats. Both support audio bit-streams up to 320kbps, and feature the latest Dolby Pro Logic llz, Dolby True HD, and dts HD decoding. Additionally, both models accept LPCM 7.1 signals from a Blu-Ray player and have DC Triggers and RS232C.
Advanced Bluetooth Capability
Like their predecessors in the line, the Marantz SR6006 and SR5006 are Bluetooth capable home theater receivers, designed to utilize their innovative M-XPort (Marantz eXpansion Port) to provide access to the Marantz RX101 Bluetooth receiver (SRP: $99.99). Powered by the receiver itself, the RX101 receives audio signals from Bluetooth-enabled devices (PDAs, PCs as entertainment devices, etc.) and sends them directly to the connected receiver, allowing users to enjoy great sound and more flexibility from their home entertainment sources. Users may listen to streaming audio from their Bluetooth-enabled cell phones, MP3 players, computers or other devices, including the iPhone and iPod Touch.
Noted Kevin Zarow, Vice President of Sales and Marketing, Marantz America: "With our comprehensive line of network-capable A/V receivers, all featuring best-in-class audio performance and a host of 'future-friendly' performance, content access and conveniences Marantz is committed to delivering the kind of network capability and power sure to exceed the consumer's home entertainment needs for years to come. Both our new SR5006 and SR6006 receivers deliver bold design, audiophile sound quality and advanced technologies for today's digital age. "
* AirPlay requires iTunes 10.1 or later and iPhone 3GS, iPhone 4, iPod touch (2nd, 3rd or 4th generation), iPad and iPad 2 with iOS 4.2 or later. A home Wi-Fi network is required.
**These services may require a separate subscription and fee
About Marantz
Marantz America, LLC is committed to upholding the tradition of technological superiority initiated by founder Saul Marantz. In keeping with this emphasis on quality, Marantz audio and video components are carried only by the nation's premier audio/video specialty retailers. Additional information is available at www.us.marantz.com and www.facebook.com/marantzamerica. Marantz America, LLC is a wholly owned subsidiary of D&M Holdings Inc.
About D&M Holdings Inc.
D&M Holdings Inc. is a global operating company providing worldwide management and distribution platforms for premium consumer, automotive, commercial and professional audio and video businesses including Denon®, Marantz®, McIntosh® Laboratory, Boston Acoustics®, Snell Acoustics, Escient?, Calrec Audio, Denon DJ, Allen & Heath, D&M Professional and D&M Premium Sound Solutions. Our technologies improve the quality of any audio and visual experience. iPod and Airplay are registered trademarks and iPhone is a trademark of Apple Inc. All other product and brand names with a trademark symbol are trademarks or registered trademarks of D&M Holdings, Inc. or its subsidiaries. For more information visit www.dm-holdings.com.
DISCLAIMER
Statements in this news release that are not statements of historical fact include forward looking statements regarding future events or the future financial performance of the company. We wish to caution you that such statements are just predictions and that actual events or results may differ materially. Forward looking statements involve a number of risks and uncertainties surrounding competitive and industry conditions, market acceptance for the company's products, risks of litigation, technological changes, developing industry standards and other factors related to the company's businesses. The Company reserves all of its rights.