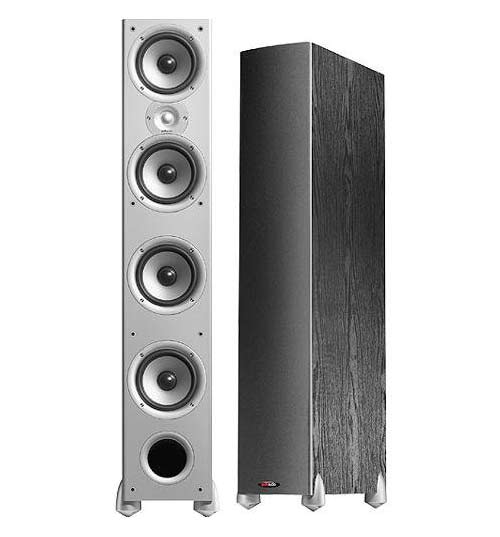 Polk Audio Monitor 70 Speakers – What You Need To Know
First off you should know these speakers are being discontinued. What that means for you is money savings on a great set of speakers.
The "Monitor" line is a special for Polk Audio. It is the line that made them famous in the 70′s for offering a simple, sturdy construction, clear, accurate sound, powerful bass and superior imaging at a price anyone could afford. These new but no longer in production "Monitor" line continue in this vein. Well constructed, great sounding, and easily within the price range of almost any consumer.
The Monitor 70 floorstanding speaker has received a fantastic amount of positive reviews on AudioReview, Amazon, and other sites around the web.
A 3-way ported bass reflex design speaker with four 6.5-inch bi-laminate composite dynamic-balance drivers and a one 1-inch silk polymer-composite dynamic-balance dome tweeter. The cabinet is made from .75-inch thick MDF and is braced to reduce cabinet resonance. With an 8 Ohm impedance and a 90dB sensitivity the Monitor 70 speaker should pair easily with any amplifier between 50W-275W.
With a frequency response between 40Hz-24kHz these are perfect for nearly all music applications and are easily matched with a sub if you want to get that house rumbling low end from movies or gaming.
They look great with and without the speaker grills.
How Does The Monitor 70 Sound?
First off, with five 5 out of 5 positive reviews on AudioReview and an over whelming amount of positive reviews on Amazon the Polk Monitor 70 obviously offer a pleasing sound to a very wide array of ears and systems.
The silk dome tweeter offers a softer sound than similarly priced speakers which use metal or Ti tweeters. There is no hint of harshness or stridency so one can listen for hours on end with experiencing fatigue. The two 6.5-inch midrange woofers offer a warm rich tone that isn't overly bloomy and maintains a clean sound. The dual 6.5-inch woofers offer a large dynamic whoop to the bass. Staging is solid and keeps constant while also being large. The slender floorstanding speakers should fit well into any medium to large sized room. But since they do only go down to 40Hz they will even work pretty well in a small room as long as you deal with high frequency reflections.
The Monitor 70 speakers do a fantastic job in the mid range vocals. This means they are perfect for home theater use. Understanding dialog will be very easy with these very articulate speakers.
It really seems any way you go these are speakers well worth having, and especially now with the discounted price. Â Pick up one of the last remaining pairs.
Do you use the Polk Audio Monitor 70 speakers?
Let others know how they have worked for you.
Use the comments below or write a full review using the below links.