http://youtube.com/watch?v=PI8fEft99DQ
iHOME INFUSES RAINBOW OF FUNÂ INTO NEW COLOR-CHANGING SPEAKER TOWERÂ Bluetooth LED Tower Available July 2012
 
RAHWAY, N.J., May 17, 2012 – Adding a spectrum of colors to home audio systems, iHome today announced the target="_blank">iP76 LED Color Changing Speaker Tower with Bluetooth technology.  Available in July 2012, the décor-enhancing showpiece is packed with 16 multi-color LED clusters to create exciting light effects; four high performance speakers in Reson8® speaker technology for towering sound, and the latest in Bluetooth technology for an untethered audio experience.
"Our Glowtunes line continues to evolve and offer a wide range of speakers for today's most popular multimedia devices," said Evan Stein, Director of Marketing, iHome.  "We're very excited to release our first speaker tower and believe the design and array of features will make the iP76 stand above the competition."
The three-foot high  target="_blank">iP76 LED Color Changing Tower Bluetooth Stereo Speaker System livens up any room with its vibrant color palette, ability to stream music from Bluetooth-enabled devices; charge iPhones and iPods when docked, and send video content from your device to your television via the built-in component video outputs.  The unit can be customized to feature your favorite color and boasts a variety of options such as color fade, pulse to music and strobe effect for the ultimate music and light show. 
The iP76 will be available in July 2012 at retailers nationwide and on www.ihomeaudio.com for $199.99.  For detailed product information, please visit https://www.ihomeaudio.com/iP76WZ/.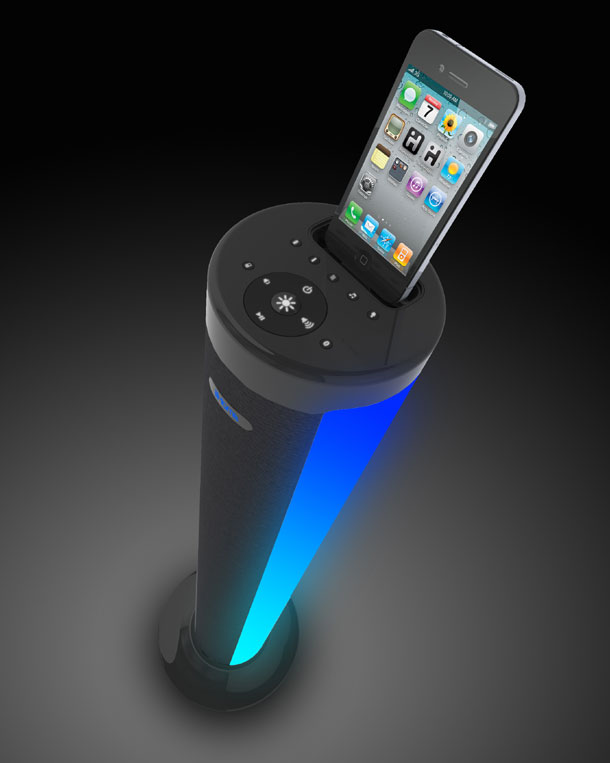 About iHome
iHome was established in 2005 as a division of SDI Technologies to develop and market iPod compatible audio products.  The first iHome product introduced, the iPod Clock Radio, was an exceptional success that became the top-selling iPod accessory for the year, and firmly established iHome as the premier brand in the iPod electronics market.  Since then, iHome continues to be the #1 brand in iPod/iPhone/iPad clock radio and speaker systems according to NPD data and has been at the forefront of design with a growing lineup of award-winning iPod-compatible audio products that includes alarm clocks, clock radios, portable and home speaker systems, and headphones., as well as new licensed lines of computer accessories and New Balance sport/fitness headphones.
Acknowledged for its innovative features, unique designs, and advanced technology, iHome has garnered several prestigious industry awards including CES Innovations Awards, numerous Editor's Choice Awards and iLounge's "2009 Accessories Maker of the Year."
iHome supports its franchise with national print, broadcast and online advertising campaigns, and the company's products can be found worldwide in 60 countries or on the web at www.ihomeaudio.com, on Facebook(facebook.com/iHome), or follow @iHome on Twitter .