Have you been looking for a great and non-expensive way to get clearer music from your computer? Pacific Valve's new Fathom DAC can help do that for a great pocket book friendly price of $229.00. Computer headphones pre-amps/DAC tend to be so harsh on the ears when using good or hi-fi headphones/earbuds, it is worth the investment to clean up that signal and reduce some of the harsh or thin sounds from a cheap equipment.
- audioREVIEW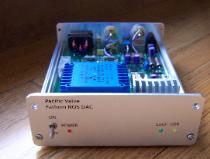 Enjoythemusic has some great news on a new hi end USB DAC from Pacific Valve for $299.  The USB interface on this model has been designed have an I2S conversion which Fathom has addresses issues with the I2S USB interface, and improved power supply regulation.
Read more on Enjoythemusic.com…
A sale price already for $229.00 from www.pacificvalve.us
From Pacific Valve:
Pacific Valve has been the leader in offering a variety of DACs to the market. Recently, we had the
opportunity to design our own NOS DAC. The process was extensive and involved several hours of
listening tests. The problem that we had was that most NOS DACs were bright in the upper midrange
and lacking in detail. We did not feel that we could bring a DAC to market until we addressed some of
these issues. For USB, the design must have an I2S conversion because we did not like the sound of
the latest conversion DACs.
Enter the Pacific Valve Fathom. The Fathom addresses these issues with an I2S USB interface, an
advanced circuit topology and improved power supply regulation. The digital conversion process starts
with a DIR 9001 receiver that is re-clocked by a 1PPM 12 MHz TCXO ( this is the same clock that is used
in our legendary Vanguard transport) . The rest of the circuit uses top of the line Rubycon caps and high
voltage low tolerance resistors. The power supply uses a 10W sealed transformer for low vibration, a
high grade IEC plug, and a high end voltage regulator.
The sound of the Pacific Valve Fathom exceed our expectations on USB and S/PDIF connections. The
music flows like a vinyl with a tube rectified preamp. There is a sense of realism the midrange, yet the
Fathom has the dynamic range that NOS DAC freaks are so fond of. Dollar for dollar, the Pacific Valve
Fathom is destined to become a classic.