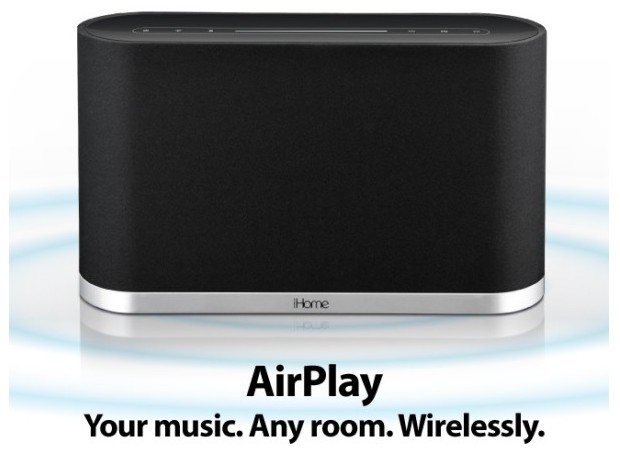 Only Portable Rechargeable AirPlay® Speaker System on Market
Now Available at Apple Store, Best Buy and Crutchfield
 
RAHWAY, N.J., October 27, 2011 – A new era of wireless entertainment has arrived as iHome, a leading supplier of innovative iPad, iPhone and iPod speaker solutions, today released the iW1 Wireless Rechargeable Speaker System with AirPlay®.  The iW1 is a portable speaker system that is easily set-up via the free iHome Connect app to stream crystal clear audio within Wi-Fi network range from your iTunes library or iPad, iPhone and iPod Touch.

"We're very excited with the final result of the iW1 and all it offers from both a design and feature standpoint," said Ezra S. Ashkenazi, President of iHome.  "The portability, premium sound and proprietary app that ensures easy set-up, are all delivered at an affordable price, giving owners a perfect audio solution for their home."
Powered by a rechargeable lithium-ion battery and controllable by the sleek, capacitive touch panel, iOS device or included remote control, the iW1 enables a truly wireless listening experience that employs Bongiovi Acoustics Digital Power Station (DPS) technology and four (4) active speakers for premium audio performance in a compact design.  Using AirPlay, owners can wirelessly stream music over Wi-Fi to the unit from iTunes on their Mac, PC, iPhone, iPad or iPod touch and enjoy music in any room of the house.  AirPlay requires iTunes 10.1 or later and iPhone, iPad, or iPod touch with iOS 4.2 or later.
The iW1 is currently available for purchase at Apple Store, Best Buy and Crutchfield for $299.  For detailed product information, please visit http://www.ihomeaudio.com/iW1BC/.
About iHome
iHome was established in 2005 as a division of SDI Technologies to develop and market iPod electronics.  The first iHome product introduced, the iPod Clock Radio, was an exceptional success that became the top-selling iPod accessory for the year, and firmly established iHome as the premier brand in the iPod electronics market.  Since then, iHome continues to be the #1 brand in iPod/iPhone audio docking systems according to NPD data and has been at the forefront of design with a growing lineup of award-winning iPod-compatible audio products that includes alarm clocks, clock radios, portable and home speaker systems, and headphones., as well as new licensed lines of computer accessories and New Balance sport/fitness headphones.
Acknowledged for its innovative features, unique designs, and advanced technology, iHome has garnered several prestigious industry awards including CES Innovations Awards, numerous Editor's Choice Awards and iLounge's "2009 Accessories Maker of the Year."
iHome supports its franchise with national print, broadcast and online advertising campaigns, and the company's products can be found worldwide in 60 countries or on the web at www.ihomeaudio.com, onFacebook (facebook.com/iHome), or follow @iHome on Twitter .