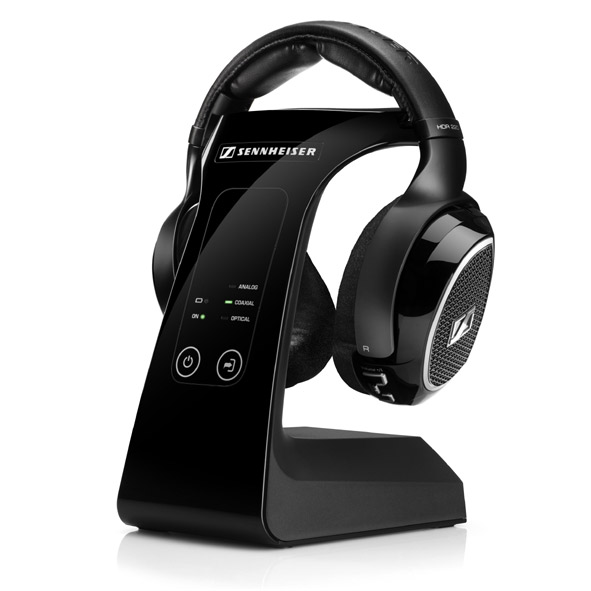 New York, November 9, 2011: Sennheiser today announced that it has been named an International CES Innovations 2012 Design and Engineering Awards Honoree for its RS 220 digital wireless headphones. Products entered in this prestigious program are judged by a preeminent panel of independent industrial designers, engineers and members of the media to honor outstanding design and engineering in cutting edge consumer electronics products across 32 product categories.
The high-end headphones RS 220 are designed to meet the demands of the most discerning audiophile. The system transmits uncompressed, digital signals via a stable 2.4 GHz connection using Direct Sequence Spread System (DSSS) technology, which spreads the output signal, limiting interference and maintaining sound quality. The RS 220 connects to analog, coaxial digital and optical digital outputs, allowing users to use the headphones however they choose. Several audio sources can be connected to the RS 220's transmitter at the same time. Signal loop-through is also possible, allowing the transmitter to be integrated into an existing connection between an audio source and another device.
To retain musical effects – such as the transition from quiet to loud – over a wireless signal, the RS 220 features Sennheiser's automatic level control function. The data from the digital sources are transmitted unchanged, and the user can manually adjust the reference volume for the analog inputs.
"With the development of the RS 220, Sennheiser has once again taken wireless audio transmission to another level," said Maurice Quarré, Director Product Lifecycle Management at Sennheiser Consumer Electronics. "For over 50 years, Sennheiser has researched and perfected wireless transmission technology, which can be seen in our reliable, high-performance microphone systems in use today by broadcasters, chart-topping musical artists and other high-profile customers. We strive to apply these same principles to all products within our portfolio, resulting in a wireless headphone that comes very close to the audiophile ideal: a lifelike, completely unrestricted sound experience. We are thrilled that our latest advancement has been recognized by the CES Innovations committee."
Sennheiser's RS 220 digital wireless headphones, which will be available soon, will be displayed at the 2012 International CES, which runs January 10-13, 2012 in Las Vegas, Nevada. Honorees will also be displayed at CES Unveiled: the Official Press Event of the International CES from 4-7 p.m. on Sunday, January 8 in the Venetian Ballroom of the Venetian.
About the CES Innovations Design and Engineering Awards
The prestigious Innovations Design and Engineering Awards are sponsored by the Consumer Electronics Association (CEA)®, the producer of the International CES, the world's largest consumer technology tradeshow, and have been recognizing achievements in product design and engineering since 1976. The Best of Innovations honor is awarded to the products with the highest judges' scores and will be featured in the Innovations Design and Engineering Showcase at the 2012 International CES.
The Innovations entries are judged based on the following criteria: Engineering qualities, based on technical specs and materials used; aesthetic and design qualities; the product's intended use/function and user value; unique/novel features that consumers would find attractive; how the design and innovation of the product compares to other products in the marketplace.
Products chosen as an Innovations honoree reflect innovative design and engineering of the entries. Examples may include the first time various technologies are combined in a single product or dramatic enhancements to previous product designs. Innovations 2012 Design and Engineering honoree products are featured on www.CESweb.org/Innovations, which lists product categories, as well as each product name, manufacturer information, designer, description, photo and URL.
About Sennheiser
Sennheiser is a world-leading manufacturer of microphones, headphones and wireless transmission systems. Established in 1945 in Wedemark, Germany, Sennheiser is now a global brand represented in 60 countries around the world with U.S. headquarters in Old Lyme, Conn. Sennheiser's pioneering excellence in technology has rewarded the company with numerous awards and accolades including an Emmy, a Grammy, and the Scientific and Engineering Award of the Academy of Motion Picture Arts and Sciences. For more information, please visit 
www.sennheiserusa.com
.