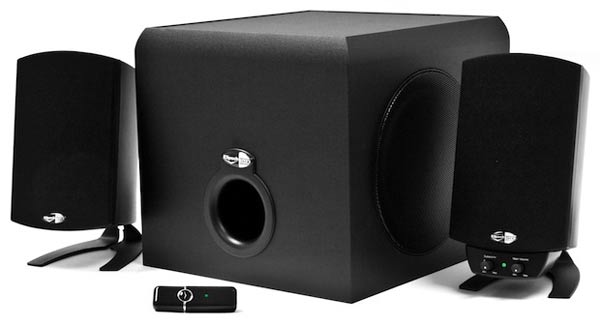 Conveniently brings better sound to laptop users (and anyone else who hates wires.)
Today Klipsch hass added wireless technology to its ProMedia 2.1 computer speakers. The original ProMedia 2.1 system was introduced in 2000, and over the years it has become one of the highest praised, best-selling products Klipsch has ever produced. But given the increase in laptop and notebook usage, company officials decided to put a fresh spin on the classic setup by introducing a wireless version.
The new ProMedia 2.1 Wireless looks and sounds like the THX®-certified original, only the Klipsch logos are silver instead of copper. "The ProMedia is still the defacto 2.1 standard for computer speakers. It's been known to put some home stereo systems to shame, and we want to keep it that way–with or without wires," said Don Inmon, Klipsch director of product development for personal audio.
The real difference between the two designs lies within a USB wireless transmitter that plugs into the computer's USB port. "Only a few simple steps are required to get the ProMedia Wireless up and running. Just plug, play and enjoy the full sonic impact of your music, movies and games without being tied down," said Inmon. "No router or installation software is needed."
Inmon, however, notes the misconception that many consumers have about wireless audio. Often times, when people see the words "wireless" and "speakers" together, they assume the entire sound system is wire and cable free. However, no such speaker system exists–unless it runs off of batteries. "Speakers need a power source to drive them and that source needs to connect to electricity," he says.
more info and photos on eCoustics.com…
source: eCoustics.com