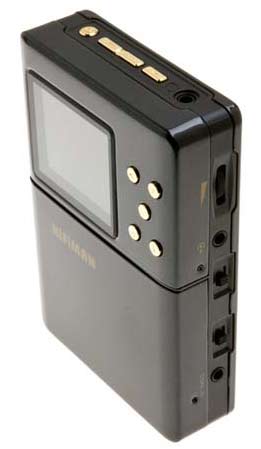 File Formats and Sound
The HM-801 appears to be a Swiss Army knife with file formats.  Some I've never even heard of.  I tested a couple different formats using the same source material.  I ripped The National's High Violet and Heifetz Concertos Tchaikovsky and Mendelssohn (RCA Red Seal) into FLAC 16bit lossless, 320kbps  LAME encoded MP3, and WAVE.  I also tested an assortment of MP3 of variable and constant bit rates and a 24bit FLAC version of Miles Davis's Kind of Blue.
Between the three versions of  The National's High Violet it was basically impossible to tell a difference.  They all sounded incredibly clear in on the top end.  WAVE and FLAC had what seemed to be a bit more depth and power in the mid to lower end but it was slight.  I do know that on track #2 of High Violet, the back up female vocal are clearer and easier to distinguish from the rest of the music than on my $15,000.00 big system.
On lower quality and VBR MP3s the HM-801 shined brightly. Â It was the best reproduction of crap I've ever heard from a PMP and a lot of stereos in general.
All the file formats I put on the HM-801 played easily with out any issues.  Unlike with my PC.  I am very impressed with how seamlessly one can go from FLAC 16bit lossless to craptastic VBR MP3s.
Connected to the main system
I'm extremely curious how sound from the HM-801 into a headphone amplifier can sound so different than when sourcing a main system? Â I realize the obvious difference, but the harder to understand ones such as, where did the dynamics go, why are the mids less detailed, what happened to the bass punch, are all elusive to me. Â If they weren't, than maybe I could figure out a way to solve these weakness in the HM-801 while connected to my main system.
If let me start by saying that I found it interesting that both the 1/8th Line Out and the 1/8th headphone jack (with volume control at max)  sounded exactly the same volume.  I can't think of another PMP I've had or used that has both those things, so I can't compare, but it would seem to me that the headphone with volume should be louder, much louder, but it wasn't.  And neither were as loud as the line out of the Electrocompaniet Prelude PC-1 CDP. With the HM-801 plugged into the Aaron 20th Anniversary Limited Edition XX I had to turn up the gain several decibels, 6 to be exact, to achieve a similar volume as the Prelude PC-1 was putting out.  I find that interesting, and it could be the cause of the problem above.  It makes me wonder, if the bigger battery worth it?
While sourcing the larger system the sound was good, detailed, and seemed fair to the whole spectrum of frequencies.   Nothing was out of balance.  There was some dynamic swing in larger classical pieces, and micro-dynamics and transients were there, but they lacked the same depth, punch, glistening brightness as when the HM-801 was sourcing a headphone amplifier.
On the Tchaikovsky CD I had ripped the punch, depth, and detail in the lower region just wasn't there.  The dynamic shifts of the Prelude PC-1 were greater, more powerful, and attention grabbing.  Also the softness and ability to just float a sound on air between the speakers, just wasn't there when playing the same piece on the HM-801.
Wait, wait you must be saying. I'm comparing an $800 PMP to a $2400 24bit up-samples stand alone CDP.  A Burr-Brown 1704 DAC chip to a modern Circus Logic DAC chip, that up-samples, unlike the HM-801. And you'd be right.  It isn't fair to compare the two.  But think about it, you can pick up some pretty damn good used CPDs for less than $500.  If the HM-801 is going to be a $800 16bit source, it better perform like  one.
Don't get me wrong. Â The HM-801 sounds good. Â But if you are thinking, heck this thing can source my system and I don't have to get a CDP or DAC, well, you might want to just demo it before you commit. Â Who knows, maybe with my system and cables it just wasn't pairing as well as it should. Â Now with a Headphone amplifier, I think the HM-801 is a fantastic source.
24bit DAC Functionality
… this section will be updated when cable issues have been resolved… please standby (2011,01,04)
Interface and Computer Connection
I maybe alone in this statement, but I have always hated using iTunes. Â I've been using MP3s along before Napster was the da awesome. Â Which means I got used to managing my audio files like I would manage any other type of file on my computer. Thankfully the HM-801 brings me back to those days of comfort and ease.
The HM-801 easily connected to my PC. Â I just plugged in the USB connection and Windows XP popped an action window. Â I selected to open the folder and bam, I was right there, able to transfer files. Â If you don't choose this method the HM-801 just shows up as another drive under My Computer named HIFIMAN. Â FYI it doesn't charge from USB, so bring the power adapter or another battery if you want more than 7-8hrs of life. Â Also don't loose the power adapter, I've never seen a connection like this before, so I doubt you'll be able to replace it easily.
After the HM-801 is connected you just copy over the files you want to listen to and you are done.  I tend to copy over separate directories per album, and that is how it shows up in the HM-801. Like a list of folders. I suppose, you could even use the HM-801 as a portable drive as well.  Which means when you are at your friends home they could easily transfer a mix to your HM-801 without issue.  Unlike certain other PMPs I know.
Once you are finished copying files you just unplug and the HM-801 will flash that it is updating the media. In about 5 seconds you are ready to go. Â It is all very simple and I am so thankful for the simplicity and that I didn't have install yet another piece of software on my aging laptop.
The only downside with this style of file management is that if you want to make a mix from albums you will probably have duplicate files which means more space is used. Â I tried to create shortcuts to see if that would work, from the album directories to a mix directory, but alas that didn't work.
Unfortunately I didn't have a chance to try the HM-801 with a Mac of any kind. Â I don't own one. Â Maybe you have though, please post in the comments below to help other users/readers out.
The actual unit interface is fairly easy to use once you get the hang of it. Â The HM-801 has standard buttons for play, FF, RR, pause and power. Â The power button got me at first. Â You have to hold it down for a couple seconds before the LCD display turns on. Â At first I would just click it like an iPod. Â I heard a pop of power into the headphones but nothing on the LCD.
Once the unit is off and running, if you want to pause or FF you have to hit those buttons twice. Â So if you are actually on the move, using this PMP portably, this is it's version of lock out. Â Though there is actually a 'Hold' switch that will lock out all controls. Â Once you start scrolling through your files, just think of the organization as directories with sub-directories with more sub-directories and files. Â It is fairly easy and fast enough.
The five bottons on the face of the unit are for scrolling through your files and selecting where you would like to go. Â Sure it isn't as futuristic as the iPod's interface, but once you get the hang of it, it works just as well. Personally I like it better than the scroll wheel. Â I had less miss steps.
The HM-801 has internal settings you can adjust as well. An EQ with pre-sets or you can adjust on your own.  The user EQ is a 5 band EQ adjustment.  At 60Hz, 300Hz, 1KHz, 3KHz, and 6Khz.  I never used it myself.  But since the EQ  is most likely software adjusted there might be a hack or a time when more bands or different bands are available for adjustment.Also you can repeat a song, album or none.
Finishing Thoughs
I think the HM-801 sets a new standard in PMP sound quality. Â Unfortunately I'm not sure how many people are going to be interested. Â The price, size and clunky interface will put off so many. Â Except for maybe rich kid hipsters or audiophiles who really get the HM-801. Â  I don't think this is an iPod killer. Â Not yet anyways.
At this point, seeing as that it sounds best connected to a headphone amplifier, and doesn't out shine a high end CDP on a main system, I am hoping that the 24bit DAC functionality, when finally tested, (FYI this isn't HiFiMan's issue, cable issue/confusion with another manufacturer because the HiFiMan takes a 1/8th headphone jack as the 75Ohm digital coax cable in) will tip the scale into awesome as opposed to just good.  At $800 for the HM-801, if you are serious about digital files, a $200 KingRex UC192 will get your files off your computer at up to 32bits, and $600 or less can get you a pretty nice 24bit DAC.  Heck, some with USB connections already.  So one has to weight the portability and size aspect of the HM-801 to the functionality aspect of it versus the size and go no where of competing products.  I know, I've used the HM-801 on several vacations.  I easily packed up a SS headphone amp and HM-801 and cans, and was extremely happy I did so.
If you have any questions/comments please just post below.