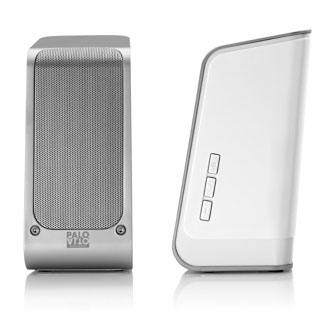 Pros:
Elegant Design
Crystal clear highs
USB for power and audio
Affordable
Cons:
Not very powerful
Can crackle when pushed
The Palo Alto Audio Design's Musik speaker packs quality sound into an affordable and small desktop speaker. Â Even better these speakers use your computers USB cable for both power and audio. Less messy cables on your desk is always a bonus. Â Their streamline design is elegant and will look fantastic next to your Mac. Â They are easy to control from the volume buttons and power on the right-hand side of the powered speaker.
Just like any other speaker, these will perform best in the right environment and under the correct set of expectations. Â So lets point those out. Â First off, these aren't powerful speakers. Â They are limited in power from the USB connection. Â So they aren't that loud. Â And when pushed they do show this weakness with crackling and distortion in the bass. Â  Â Plus the speaker to speaker cable is on the short side. Â The max distance one can space between each speaker is perfect for placing around a laptop or a medium sized monitor, but trying to place each speaker on either side of a dual monitor system is neigh impossible.
But these little issues can be over looked by the fantastic sound that these little guys will produce. Â And while the gain must retain a moderate level, and getting them against a back wall or corners will increase the bass, their overall sound is quiet pleasing for such an affordable price point.
If you are looking for an affordable speaker that is several steps above the speakers in your laptop and don't plan to push the volume, than these maybe just for you. Â If not, you will want to up your budget and look else where.