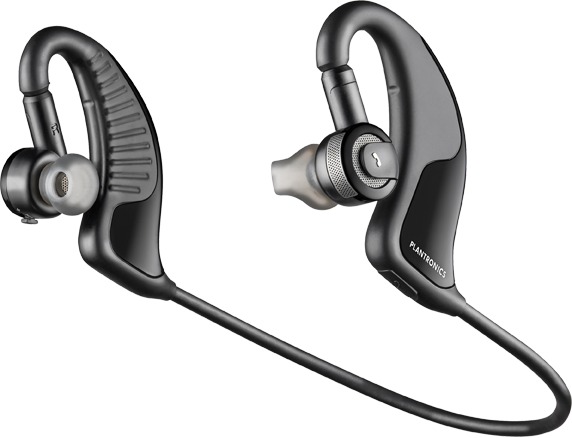 Pros:
One Touch Control to easily answer phone calls
Dual Mic and AudioIQ2 technology for clear conversations
Flexible band for easy storage
Easily connect to iPhone, iPad, Airbook, or any Bluetooth devices

Cons:
Build quality is a little iffy
Not exactly HiFi sound quality
Bluetooth connection can be iffy
The Plantronics BackBeat 903+ is an in-ear with sports ear warp arounds and an elastic band between the two ear sets, wireless bluetooth in-ear earphone that is affordable and offered a well thought out feature set and easily accessible controls.
Most users report that the Backbeat 903+ easily fit in their ear and stay in place while walking and running. The 903+'s come with different ear sizing options. It is important to experiment with the sizes to find what will fit you best. The 903+'s do offer good isolation once a good fit is found. This will also help increase bass performance and overall cohesiveness of the sound.
Remember that these aren't actually sports headphones so long term exposure so salty perspiration may cause the 903+'s to fail. They aren't built for that sort of activity.