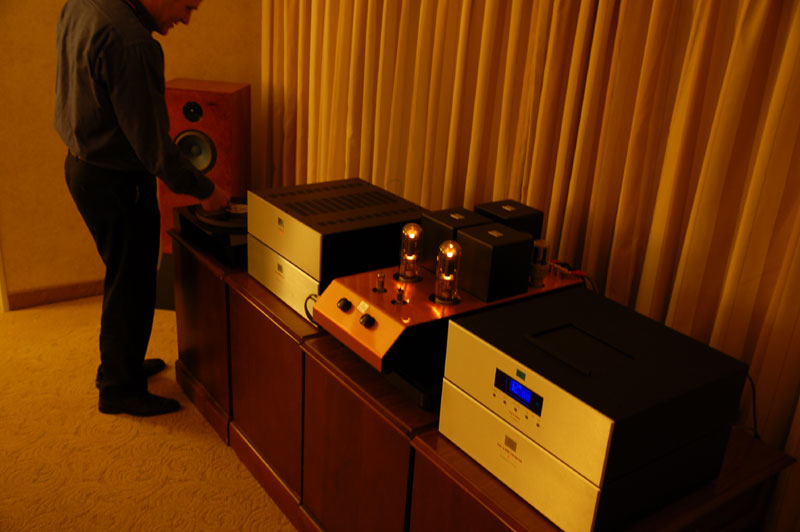 Audio Note at T.H.E. Show (CES) 2011.  A new $152,000.00 DAC that was very fast and a little too aggressive for our ears with the decay.  In the back corner there is a new version of the TT2 turntable.  You will be able to get it in a finish matching the speakers, except piano gloss.  $3,000.00.  It sounded very nice.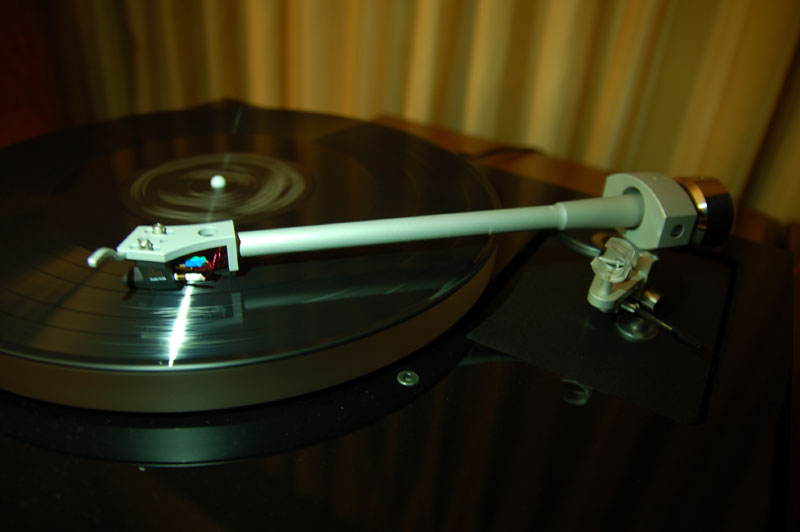 A top the new TT2 turntable is an Audio Note designed tone arm.  AN didn't much like the new Rega that would have been paired with this table so they made their own.  Made in Austria it is machined from a solid piece of aluminum.  $2,000.00 price tag.  The whole new table and arm is very sexy and modern without being cheesy and gimmicky looking.  (I'll try to get a better photo of the two later.)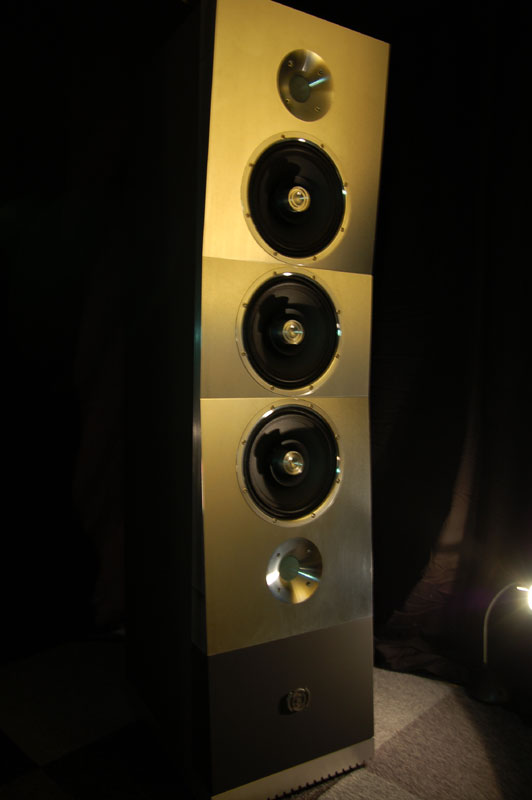 The Dominance – $40,000.00 – A well tamed beast that is just waiting to explode.  At least that is the impression I got.  Not as linear as some audiophiles would like.  We noticed we could talk easily with the volume at a reasonable level.  But when the time came to turn it up and hear the 15inch woofers roar – it was thunderous.  I'd love to hear these with better backing electronics.  This is a new step for Zu.  The resolution of the Dominance is well above anything they have.  Of course so is the price.  On a live blues number we listened to (I actually spend about 45min in the room auditioning) I was very surprised at how well it placed the musicians in the stage.  Not just left to right, but back and forth as well.  The depth these gave to the soundstage is fantastic.  Small movements closer and away from the mics where crystal clear.  On modern electronica – well the things nearly shook the room apart.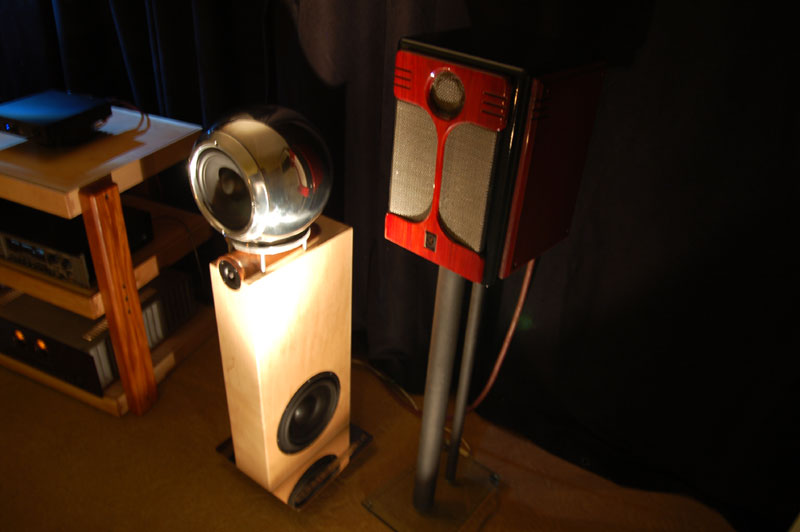 Studio Electric. Â I've never heard of these (this guy) before. Â But the Studio Electric Monitor was fantastic. Â 6.5inch paper cone woofer in a sealed box. Â Down to 44Hz +/-4db. Â It took a massive 275W at peak power mosfet hybrid amplifier to drive these properly. Â It was outstandingly linear and I was stunned at the dynamic range from a sealed box design. Â Plus they look great and only cost $2,550.00. Â I want. Â The silver standers T3 next to it use the same tweeter and woofer but have a sub as well. Â Cross over design is a bit more relaxed. Easy to listen to at high volumes for long periods of time. Â And it is a booty shaker.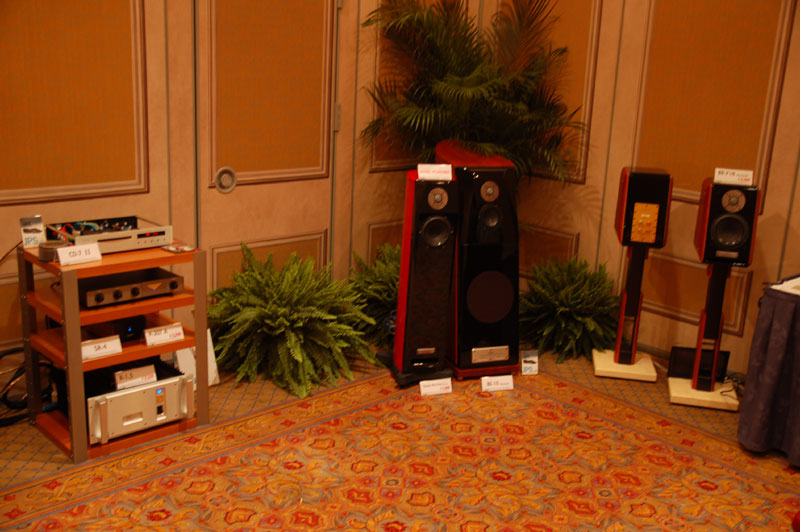 Usher audio was demoing their floorstanders. Â Very good sound at a reasonable price. Â The monitors are what I have my eyes/ears on – but I've yet to hear them. Â Hopefully later in the show.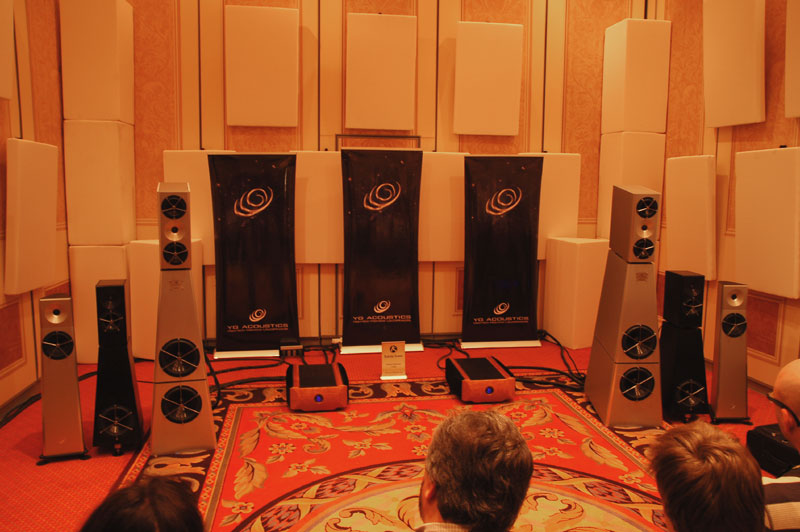 YG – and it sounds like YG. Â … Actually it sounds much better than at RMAF. Â At least to me.
More Coverage – Magnepan 3.7 – Totem – Melody – Zu Audio – Pro-Ject