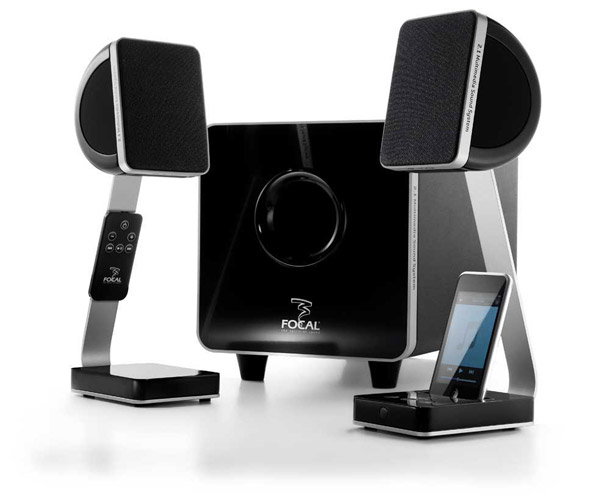 Pros:
Exceptional Sound Quality
A iPod Dock that actually recharges your iPod
Separate 3-inch mid-range and 1.9cm tweeter

Cons:
The Focal XS Satellite Speaker system with iPod/iPhone dock might appear to be a bit pricey when compared to others, but its well thought out features and fantastic sound make it worth checking out. The Focal XS System is often described in terms of the "audiophile level". This is no surprise, since Focal is well known in the ultra high end audiophile market, for their Utopia line of speakers. Focal's attention to sound quality isn't save only for the high end.
The XS System uses an integrated USB cable for connecting to your computer, an iPod dock for listening and even better, recharging your iPod. A fully functional remote control and auxiliary jack for connecting other audio sources. Unlike a lot of similar looking speaker systems, the Focal XS use both a 3-inch paper cone mid-range woofer and a 1.9cm tweeter. That means you get clear highs and clean, detailed mid-range. Â Most similar systems combine both the tweeter and woofer, and typically, that doesn't mean you get the best of both worlds in one simple package. The sub and speakers are driven by dual 30W amplifier. The sub-woofer pumps out a powerful low end that is punchy and fairly clean. Â Of course, like all 2.1 speaker systems, imaging and clarity will vary depending on how the sub and satellite speakers are set up. Â More so that you standard floorstanding or bookshelf speaker set up.
Once you do get the XS positioned correctly you should experience a very deep, detailed, and an engulfing stereo field that should be very pleasing.  The mid-range is exceptional for a small satellite 2.1, and you'll hear that in the clarity of vocals, string instruments, and the top end and punchy presences of toms and snare drums.