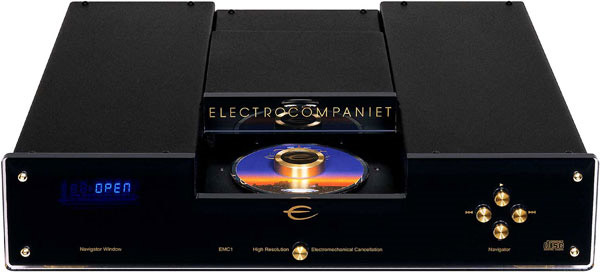 Featured Article from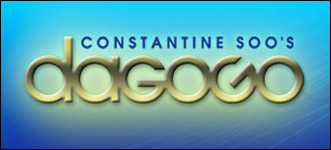 Ed Momkus savors Norwegian Excellence: The Warm and Inviting Electrocompaniet EMC 1 UP CD Player
Reviewer: Ed Momkus
I have often read CD player reviews that imply that the sonic differences between CD players are very minimal. This has not been my experience. It is true that this may have generally been the case in 1990, but things changed by the late 1990's, and the last 5-7 years have seen an amazing variety of players. So many that even veterans of digital audio can't keep up. For example, I have owned over a dozen different CD players, reviewed four (including my own Esoteric front end) since joining the Dagogo staff, and extensively demo'd (in my own system) a dozen others.  Included are the Lindemann 820S SACD Player (January 2009 Edition of Dagogo), the EMM Labs CDSA CD/SACD player, Oracle CD 2500 (August 2006 edition of Dagogo), Music Hall Maverick SACD player (May 2007 edition of Dagogo), Levinson 39S, the Cary 306/200, the Electrocompaniet EC-1 and several custom-modded DVD players, as well as EAD transports and DACs.
My current front-end is an Upgrade Company-modded Esoteric P-70/D-70 combo (see my review in the December 2008 issue of Dagogo), connected by two Transparent Reference AES/EBU and one Transparent Reference BNC digital cable, mounted on a Target VW-2 wall-mounted dual turntable shelf, and powered by way of a dedicated outlet connected by Lessloss DFPC Signature Power Cords (review to come). I really love this front-end, but I will tell you frankly that I would not feel this much affection for it without David Schulte's (the Upgrade Company) mods. His mods improved several things, but for my taste, the main improvement was the body and warmth added to the presentation. This body and warmth are not, in my opinion, artificial coloration. Instead, they brought the Esoteric combo closer to "live".
The absence of sufficient body and warmth in digital components has been one of the chief complaints (there have been others) made about digital. You can attempt to compensate through your selection of preamp, amp or cables, but this is an extremely dangerous approach where you risk cobbling together a system that addresses component shortcomings by adding coloration. In my opinion, you need to fundamentally love both your speakers and your front-end before you tweak the sound with other components.
Realizing this, designers turned to tubes, upsampling, oversampling, and different digital formats (SACD and DVD Audio) in an effort to address these and other digital issues. Electrocompaniet was an early adapter of upsampling, but there was clearly more than upsampling to what they were doing. My own Esoteric is an upsampling player, but even after the mods it doesn't have the body and weight produced by the EMC 1 UP. In fact, as you will see below, the EMC 1 UP produces the sort of full-bodied sound that is normally associated with tubed players, but without the hassle of tubes. Read on.

The EMC 1 UP is a top loader with a sliding, rather than a hinged, door. Most top loaders must be placed on the top shelf so that there is room for the hinged door to swing open. This may not be important in some systems, but drawer-style players and transports can give you more flexibility in placement, especially if you also have a turntable, which definitely needs to go on the top shelf of your rack. The EMC 1 UP's top slides straight back, opening not only the top of the unit, but also sliding back part of the top of the central face of the player so that you can put the disc in on a middle shelf that has enough clearance. Top off the disc with the supplied magnetic puck, close the sliding top, and you're ready to go.
The EMC 1 uses a Philips CDM-PRO 2 transport. The CDM-PRO mechanism and DSP board are housed in a rectangular metal block consisting of 4 sheets of metal alloy with soft rubber coupling feet. This electro-mechanical damping system is designed to isolate the transport's laser mechanism from vibrations. The EMC 1 employs 24/192 kHz DACs and all circuits are fully balanced and symmetrical. Two separate transformers power the digital, analogue, drive mechanism and fluorescent display. The power supply is designed using Electrocompaniet's Floating Transformer Technology, which is also used in Electrocompaniet amps. The whole player stands on three triangularly-placed feet. You can get more details and information from Electrocompaniet's website:www.electrocompaniet.com.
Specs:
Line section
Single-ended gain: 1.6x (4dB)
Balanced gain: 3.2x (10dB)
THD (1V out, 1KHz): <0.002%
Maximum output (Balanced): >14V RMS
Channel separation (1V out, 1KHz): >90dB
Equivalent input noise: 4µV
Digital section
Transport: Philips CD Pro top loading drive unit, latest version
DAC: 24-bit upsampler 192KHz
Digital out: RCA/XLR
Power consumption: 23W
Dimensions: 19W x 4.5H x 17.3D (inch)
Weight: 44lbs.
About Dagogo.com
DAGOGO (pronounced "dah-go-go") is a U.S. high-end audio review monthly e-magazine established since November 2003. Its mission is to present both a macroscopic and microscopic view of the high-end audio hobby to its readers. Its contents include critical commentaries, industry personality interviews, specialty show coverages and music reviews. New articles are published on the 1st and 16th of every month. www.dagogo.com