I had just about given up on CDs. There were some recent changes to my digital playback system and CDs were sounding better than they ever had in my system. Even so, vinyl LP playback still made CDs seem like second class citizens. Sure they have a place in the audio landscape, but for enjoying music to the fullest, those old long-playing records provided far more accomplished and enjoyable listening experiences. With the arrival of the Marantz SA-7S1 player, the status quo was about to change.
Marantz SA-7S1 CD/SACD PlayerThe mighty Marantz MA-9S2 Reference Series amplifiers had, just a few months before, redefined for me what a solid state amplifier could do. Having been a confirmed, die-hard, inconvertible tube amplifier lover for decades, the Marantz amps rocked my world. Long story short: they are my reference amplifiers, which pretty much tell you the whole story about these great amplifiers. If a Marantz Reference Series amplifier could deliver exceptional performance, maybe lightning could strike twice from the same manufacturer and their CD player would change my mind once again.
I plugged in the $6500 Marantz SA-7S1 CD/SACD player, set a CD to replay, and let it cook for 500 hours with a resistive load on the outputs. Lest someone suggest that the break in was biased, it was performed using rock music and classical, test tones and new age, and every day I changed the CD to a different genre. I even included some light country. That chore complete, I connected the Marantz to my preamp and hit "play".
And my jaw dropped.
---
From Marantz:
MSRP: $6,999.00
Are technical accomplishments important in themselves or important for the benefits they bring?  Marantz firmly believes the latter and proudly presents the SA-7S1 as a technical tour de force with one goal – to let you hear more musical detail than you thought possible from CDs and SA-CDs.  After all, what else is Marantz about?
Plays SA-CD(Stereo), CD, CD-R/RW
Current Feedback Circuitry
Full Balanced High-Speed Analog Circuit with HDAM®-SA2
Newly Designed SACDM-1 Aluminum Transport
Digital Isolator for D/A Grounding Separation
Marantz Original PEC (Phase Error Compensation) PEC777f2
High Accuracy NPC SM5866A5 D/A Converter
Low Jitter Internal Clock
External Clock Input
Phase Inversion for Balanced Output
Toroidal power transformer w/Copper Shield Case
All Copper Plated Chassis w/ Double Layer Bottom
Top Ranked Products from Marantz.
---
MINI-REVIEW: Cary 306 Professional CD/SACD Player
The latest version of the very well received Cary 306 offers a digital-to-analog converter section that can be used for external sources. In the current climate, which is moving towards greater use of music servers and digital files with computer integration into our audio systems, the Cary DAC is a welcome feature and one that should be included in any new Marantz "SA7-S2". (Looking more closely at this trend, the –S2 version should have USB and possibly even Firewire inputs.) The DAC section of the Cary offers inputs for S/PDIF on RCA and Toslink connections and balanced AES. It also offers selectable sampling or up-sampling rates of 44.1, 96, 192, 384, 512 or 768 kHz sample rates for CD playback to the analog audio outputs, and 44.1, 96 or 192 kHz for the digital inputs, all at 16, 20 or 24 bit depth.  The full function remote control takes some getting used to, but allows remote changing the sampling rates which is great for fine tuning the listening experience and endlessly distracting with always trying different rates for different CDs. I usually preferred either 44.1 or 384 kHz for CD playback, but YMMV.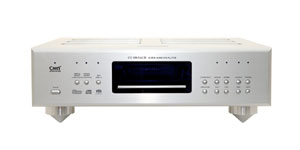 Stats on the Cary 306 on product page.
About 10Audio
10Audio content is shared with the consent of 10Audio. Don't know about 10Audio? Check them out. Here is 10Audio's hi-fi philosophy. "This site is by audiophiles for audiophiles. Our experience includes more than 30 years of audio sales, DIY, and consulting services. So if you are interested in another "qualified" opinion, please read on.You won't find any advertising so impartiality is assured. Sometimes it takes a while to post a review. Thank you for your patience. This site is BS-free, which, as you know, is an entirely relative statement." www.10Audio.com