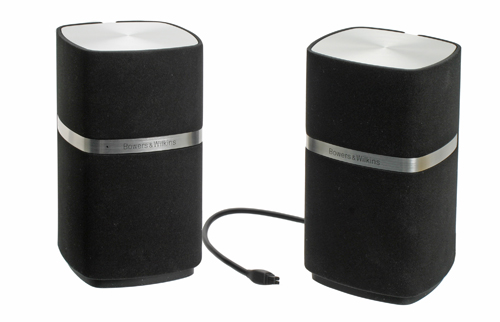 Bowers & Wilkins MM-1 Computer Speakers – What You Need To Know
Pros:
USB plug and play streaming audio on Mac/PC
Very Stylish
Very good mids to highs
USB + 1/8-inch Aux Input
Revealing detail on the audiophile level
Good sound stage but have to be in the sweet spot.
Perfect for small office or cube
Remote is easy to use, small, and works

Cons:
Bass can be a bit underwhelming for gaming
Right speaker can get too warm for comfort
No auto standby mode when no signal
Expensive
The MM-1 computer speaker from Bowers & Wilkins is the perfect match for stylish users who want clear mids and highs and a bass presents that doesn't annoy the neighbors – office co-workers.
With overwhelmingly positive reviews on both Amazon and at the Apple Store these speakers offer up a taut high end and clear mids that have most people finding out that there really is a difference between low quality and high quality MP3 bit rates. In other words these are very detailed and revealing. Beyond the level of computer speakers into the realms of the audiophile.
Computers have come a long way – even making it to the main entertainment center. With Netflix and Hulu's stereo only audio signals it isn't worth it for everyone to have a surround sound speaker system at home when most of the consumed media is in stereo. But having great sound is still needed. It makes it easier to hear dialog in movies and you'll enjoy your music many time over on a higher fidelity system. And that is what the MM-1 has to offer.
With separate woofer and tweeter – a tweeter which is in fact based of the technology used in Bowers and Wilkins top of the line Nautilus speakers – a tube loaded design that reduces resonance and allows for a cleaners high end. With a claimed frequency response range from 38Hz to 22kHz bass really shouldn't be an issue. But if you can place the MM-1′s near a rear wall or in corners it will help to increase the bass if you do happen to find it lacking.
There is a 1/8-inch headphone jack and a 1/8th-inch Aux input jack that will play audio in parallel with the sound off the computer.
The only nagging issues are bass and the heat produced from the right speaker. Some folks just don't find the dynamic punch and depth of the bass satisfying enough compared to similarly priced competing units from other companies… (Bose). The right speaker which contains four (4) amplifier in it can get hotter than normal computer speakers and does sketch a few folks out. But no cases of fires reported.