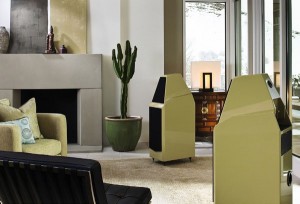 Wilson Audio Specialties didn't invent high-end speakers, but its original WATT speaker, introduced in 1986, changed the rules of the game.
Up to that point state-of-the-art speakers were all large beasts, but the WATT was a comparatively tiny stand-mounted speaker. Its distinctive pyramidal shape went on to spawn countless imitations. The WATT was soon joined by the matching Puppy (woofer), and over the ensuing decades the two-piece WATT/Puppy system evolved, culminating in the WATT/Puppy 8 in 2006. Well over 15,000 WATT/Puppys have been sold since 1986, but rather than move to the W/P 9, founder David Wilson decided to start afresh, so now we have the Sasha W/P ($26,900/pair).
read more from Steve Guttenberg at CNet…
source: CNet
image source: godmode.me
as a side note, wonder if target="_blank">these two could use it for something?