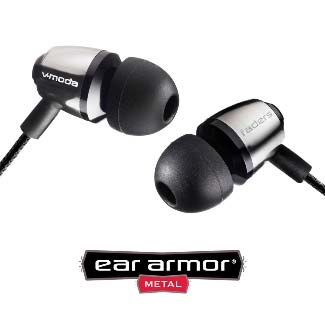 Los Angeles – December 1, 2011 – V-MODA, the maker of critically-acclaimed and award-winning headphones including Crossfade LP and Crossfade M-80, is thrilled to announce the availability of Faders tuned earplugs, the first of several protective offerings under Ear Armor, Inc.
Constructed from top grade metals and medical-grade silicone fittings, Faders protect your hearing by reducing harmful noise by 12 dB evenly across the frequency spectrum, while still allowing you to enjoy crystal clear music and speech in a club, concert, festival, music practice, or other excessively loud events. The noise reduction can make the difference between an enjoyable listening experience and lifelong hearing loss.
The concept for Ear Armor and Faders was born when V-MODA founder and accomplished DJ, Val Kolton, was on tour in Spain. While enjoying a friend's set, Kolton noticed the sound level meter for the dance floor, a unique feature to this club. He was amazed by how high the decibel levels reached and had an immediate epiphany that DJs were unknowingly spinning at unsafe sound levels because the speakers in the DJ booth and dance floor are at separate volumes.
Continuing his spinning sessions after returning to America, Val Kolton found there were many people who were anxiously searching for good hearing protection. After reading an article in the Journal of the American Medical Association which found that one in five American teenagers had some degree of hearing loss – a startling 31% increase since the late 80s, Val immediately went to work commissioning the V-MODA R&D Labs with a new mission – to create the world's best earplugs.
"Most earplugs simply sound like you have mud in your ears, even expensive custom-fitted sets costing hundreds of dollars don't have the clarity and highs. Additionally, after DJing for years with custom earplugs, I experienced first-hand that they can cause ear canal problems similar to using Q-tips. Worst of all, these expensive products easily fall out and get lost," says Val Kolton, Chief Visionary Officer and Founder of V-MODA. "Faders are affordable, comfortable, sleek, fit everybody, and most importantly they help protect your hearing while still allowing you to rock out and enjoy concerts, clubs, or any loud event."
V-MODA Faders are crafted in metal and are available in Gunmetal, Rouge and Pink and come with three sizes of medical-grade "BLISS 2.0" silicone fittings for a universal fit. Additionally, the fabric lanyard ensures they do not get lost in the crowd. They are available for a limited time for only $15 at V-MODA.com. For any order over $50, the Faders will be included complimentary while supplies last. For more information, please visit V-MODA.com/Faders. A portion of all proceeds go to the In The Loop Foundation, a non-profit organization founded by Kolton to help educate and promote the practice of safe sound.
ABOUT V-MODA and Ear ArmorTM
V-MODA is the maker of the finest professional quality and modern audiophile products. Its products are distinguished by an extreme passion for music, materials, fashion-forward design and unparalleled quality. Led by professional DJ and Chief Visionary Officer, Val Kolton, V-MODA products blend the inspiration of Italian design, the essence of music, and the charisma of Hollywood. Together with design extraordinaire Joseph Bucknall, the world's most influential producers, musicians and DJs, V-MODA is constantly challenging the norm and forging the remix revolution. For more information, please visit V-MODA's website, V-MODA.com. Ear Armor is a new company responsible for creating high fidelity ear protection. Led by V-MODA founder, Val Kolton and legendary DJ Erick Morillo, Ear Armor products are designed to protect hearing without compromising enjoyment.