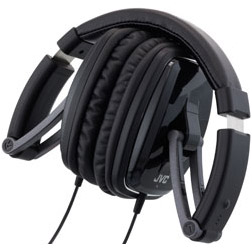 JVC HA-M750 and HA-S650 Headphones
New Black Series Foldable Headphones Combine Performance and Style
JVC announced a new series of portable headphones for those who want to upgrade to top quality sound combined with a sleek, simple, modern design. The new JVC Black series includes two models, the HA-M750 and HA-S650, both designed to complement the latest generation of portable audio devices.
JVC HA-EBX85 Sports Clip In-Ear Headphones
Designed for sports use, the splash-proof HA-EBX85 is both comfortable and practical, fitting securely in the ear and held comfortably in place by a soft rubber ear hook. This makes the headphones ideal for exercise and fitness activities, as they remain secure and comfortable even when working up a sweat. JVC's superior sound quality is further enhanced with powerful 0.43-inch (11mm) neodymium driver units. The HA-EBX85 is available in a choice of three colors — white, pink and purple — and comes with a slim, gold-plated iPhone-compatible plug.
The JVC HA-EBX85 sports headphones will be available in August for $19.95.
JVC HA-FX20 All Star In-Ear Headphones
The HA-FX20 All Star headphones are available in five color combinations, offering something to please just about anyone. The powerful 0.33-inch (8.5mm) neodymium driver units provide excellent sound, while superior sound isolation from background noise is achieved with the in-ear canal design of the headphones. The HA-FX20 also offers the convenience of a slim, gold-plated iPhone-compatible plug.
The HA-FX20 All Star headphones will be available in September for $14.95.