As technology develops it typically gets smaller, more reliable, and cheaper to produce. The Trends Audio T-10.2 amplifier is a perfect example of this. A Digital T class (Tripath) amplifier that is hardly any larger than a beer can. But what is most stunning about the T-10.2 isn't its small size, it is how damn good it sounds.
Trends Audio hails from Hong Kong and the T-10.2 amplifier is only one member of the Trends family. Trends also makes the PA-10, 6DJ8/6922 or 12AU7 tube based iPod headphone amplifier, the UD-10.1 USB DAC/Headphone amplifier, PSU, speakers, and coming in Nov 2011 a tube pre-amplifier and in 2012 a 50-70W T amplifier. Trends also sells their PSU, tube PA-10, T-10.2 and DAC as a set. All you'd need for a small single source system and all together no bigger than a six pack.
Sound
So what did we expect to hear from putting in a $189 amplifier into the $15,000 system? Well frankly we were kind of expecting the worst. Last time we did something like this with the Onkyo M-282 one got a perfect picture of all that amplifiers faults. But this time, boy were we wrong. First off the little amp that could, sounded pretty dang good in this system. It was able to pass through the articulation, detail and dynamics of the digital sources and preserved the overall characteristics of the system. Secondly, the little amp that could, was able to effectively push all three speakers we paired it with. And the little amp that could, actually had some lively dynamics to it. We were extremely pleased.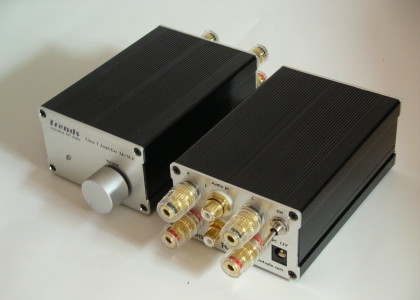 After several hours of initial listening we were surprised we couldn't really find any major faults, or minor ones really. On all the speakers we paired the amplifier with bass came through with good detail, punch, and articulation, especially on the more efficient Trinity speakers. On Massive Attack's Mezzanine, a bass heavy trip-hop album, but bass with actually character, not just generic electro-blandness bass, the T-10.2 revealed a good portion of the bass's timbre, dynamics, and punch. And at higher volumes the high end held together, not becoming too stringent or strained. At least while amplifying pop, metal and jazz music.
While driving the Trinity speakers one got a sense of openness and airy quality but not to the point, at least a standard volumes, of hearing the microphone hiss on Belle & Sebastian's Boy with the Arab Strap, or squeaks, chair adjustments on the 1987 recording of Heifetz playing Tchaikovsky and Mendelssohn's violin concertos. The point being, while the detail was there, it wasn't enough to ruin the musical experience by highlighting the faults in the recording. The mid-range and micro-dynamics of the amp were very pleasing, if not flat out amazing at this price point. Sure with the Audio Note DAC One Sig, basically articulation on steroids, micro-dynamics and mid-range clarity were sure to be better than average, but we were surprised at how much life and playfulness came through the amplifier. On Sufjan Steven's Illinois album, John Wayne Gacy, Jr., the interplay between the piano and guitar was clear and emotional. The small articulations and plucks or strings came through at a level that betrays the price point of this amplifier.
The mid-range was open and detailed. Hard to tell actually that it was a solid state amplifier since it did posses a touch of warmth. Of course it was missing the harmonics of tubes, and it wasn't as warm as some Van Alstine solid state amplifiers I've heard, but it had a since of body, fullness and the music had presences and a sense of solidness.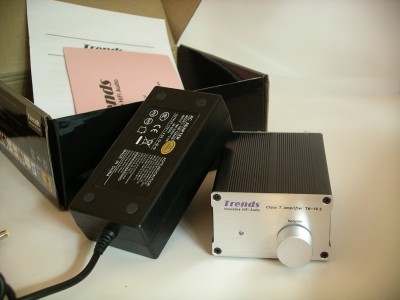 But before we venture too far into postive hyperbole, lets step back into reality. So are there any issues. Well as stated above, nothing stands out glaringly wrong, nor are there any subtle nagging issues. But there were some things we'd have liked to have heard but didn't. Granted this is all just nit picking considering one already gets so much for less than $200. But comparing the T-10.2 to a higher end amplifier the soundstage isn't as wide or enveloping as we'd prefer. On the Godspeed You Black Emporer album F#A#, the super small details that puts one in the recording studio just didn't come through. So the massive since of space that that album has didn't show. Though standard stereo imaging was fine and fairly wide. With large symphony pieces, when the orchestra is blasting away, the stage does seem to reduce a hair compared to just a solo instrument and grand and micro dynamics seem to be a bit flat when there is a lot going on. But asking a $189 amplifier to accurately re-create an entire orchestra is a bit unfair. On standard pop music, rock, jazz, dynamics and stage didn't seem to suffer at climaxing moments. And while the bass does hold together very well it can be slightly blurred and a tad slow when the amp is trying to get a lot much information across. Also at really high volumes, at least with these the rather inefficient Electrocompaniet and Brodmann speakers we paired the amp with, violins could become a bit harsh and edgy at times. And both these speakers are wicked smooth, so pairing with an inefficient and more metallic sounding speaker could have some very bad consequences, at least with classic.
So yes in the grand scheme of things we wished the T-10.2 did some things a little better, but we are really digging deep to come up with any type of criticism.