Passion. Our hobby/interest/vocation is all about passion. There is a lot of passion in the high-end audio universe and James Bongiorno, the head of Spread Spectrum Technologies, has a consuming passion for his creations. He has been building and refining the Ampzilla amplifier concept since 1974 and holds a patent on the design. From his Web site: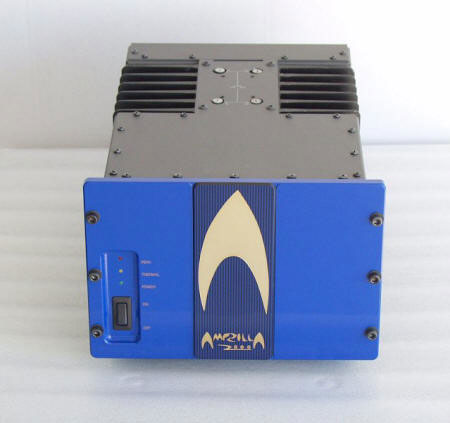 "At the time, James was the director of engineering at SAE. Prior to that he had been the director of engineering at Dynaco where he created the renowned Dynaco 400. While at SAE, James conceived the concept of the full dual differential full complementary amplifier topology which has since, for the last 27 years, become the defacto world standard road map for virtually all high end power amplifiers made today. Ampzilla was originally designed as a construction project for Popular Electronics Magazine. However, the response was so overwhelming, after the rave reviews, that James left SAE to found "The Great American Sound Co. Inc." (GAS CO.). The rest was history." Read more here.
The Ampzilla 2000 amplifier, a 200 Watt (into 8 Ohms) mono block, is the latest thinking from the mind of James B. It is relatively compact, runs warm but not hot, and weighs a manageable 52 pounds. There is a single pair of speaker terminals and inputs for RCA and XLR interconnects. Interestingly, in the Owners Manual, the point of manufacture is listed as Cullen Circuits, also the manufacturer of the Wyred4Sound ST-1000 amplifier, which was reviewed here on 10Audio.com. Based on my experience with the high quality of other Cullen Circuits' products, SST's selection of Cullen to build his amps was a wise choice. Personally, I was especially pleased to see the selection of an on-shore, US manufacturer to produce a new product.
| | | |
| --- | --- | --- |
| | images courtesy of Spread Spectrum Technologies | |
Spread Spectrum Technologies Ampzilla 2000 Amplifier Specs:
| | |
| --- | --- |
| POWER OUTPUT | |
| 16 Ohms – minimum 100 watts 20Hz to 20kHz | |
| 8 Ohms – minimum 200 watts 20Hz to 20kHz | |
| 4 Ohms – minimum 400 watts 20Hz to 20kHz | |
| | |
| Total T.H.D. & I.M. Distortion | |
| 4 to 16 Ohms less than .05% at any power level up to rated at any frequency or  combination | |
| of frequencies between 20Hz and 20kHz. | |
| | |
| Input Impedance and Sensitivity | |
| 1 volt R.M.S. across 50kohms for 200 watts into 8 ohms on the unbalanced input. | |
| (note: the impedance value can be adjusted to any value up to 1 megohm-consult the   factory) | |
| +/- 1 volt R.M.S. across +/- 70kohms for 200 watts into 8 ohms on the balanced input. | |
| | |
| More information on Spread Spectrum Technologies website www.ampzilla2000.com | |
About 10Audio
10Audio content is shared with the consent of 10Audio. Don't know about 10Audio? Check them out. Here is 10Audio's hi-fi philosophy. "This site is by audiophiles for audiophiles. Our experience includes more than 30 years of audio sales, DIY, and consulting services. So if you are interested in another "qualified" opinion, please read on.You won't find any advertising so impartiality is assured. Sometimes it takes a while to post a review. Thank you for your patience. This site is BS-free, which, as you know, is an entirely relative statement." www.10Audio.com