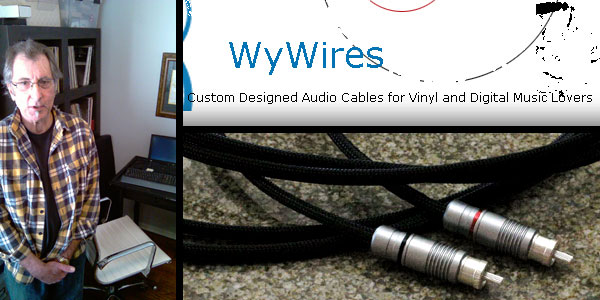 Yesterday I was privileged with spending the morning talking to custom cable designer Alex Sventitsky of WyWires, LLC. Alex focuses on a simple and elegant design approach, and believes that a system can be greatly improved with correct cable matching.  And as such each cable is custom made to fit a system and need, and only sold after careful consultation.
In homage to Thomas Edison and Nikola Tesla, Alex focuses on 'getting back to basics' design approach.  Un-shielded cables that erode as little of the signal as possible.  WyWire cables are made of ultra pure copper strands, coated in inert lacquer, and braded in a proprietary fashion.  WyWires uses organic cotton as a dielectric material.  Each cable is then housed in a Teflon tube and wrapped in a very easy to manipulate material.  The key characteristic of a WyWire cable is low impedance with very low inductance and capacitance.  This opens up subtle details and helps to create a clearer stage.  Each WyWire has a specific design and system in mind.  Because the voltage output of a CD Player maybe many times higher than the voltage output of your moving coil phono cartridge, each cable is designed to fit a specific application.
Why no shielding?  Isn't this going a bit too much against the grain.  Shielding materials can erode the original from the original signal and then release back into that signal at a later time, smearing the signal and thus the sound.
Alex's price points are vary reasonable considering some of the monstrous prices of the cables he is in competition with.   Alex aims for recreating the live experience in your home.  Often getting out to local shows in the LA metro area he is constantly using live instruments as his reference points.
A very nice guy who is down to earth and easy to talk to. Â He makes a great cup of coffee and is a very welcoming guy. Â His current system is very good sounding and doesn't cost hundreds of thousands of dollars. Â A good stage and deep blacks. Â Drums , guitars and vocals where especially dynamic had a very realistic timber.
Find out more about WyWires at www.wywires.com. Â You can go straight to the Technology Paper PDFÂ here.
Look for an upcoming review of WyWire cables on AudioReview.com.