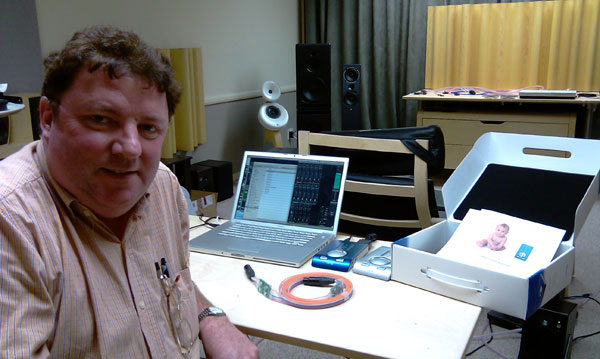 Two weeks ago my wife and I drove down to San Diego to visit with Tim Ryan of SimpliFi Audio.  Tim is an enthusiastic, open minded and friendly Irishman whose audiophile focus is on obtaining 'original master sound in your home'.  My wife described Tim as being like a 'kid who loves to share his awesome toys with you'.  Which is pretty much spot on.  And a bit refreshing from some of the more 'couldn't care less' attitude you can find in the world of audiophilia.  Tim worked in the pro-audio field for a long time and his ears and taste lean to that clean, open, detailed and perfectionist sound that a pro-mastering studio would provide.  He loves active monitor speakers, XLR cables, and computers. I have to say, myself, loving vinyl and AN211 tubes, Tim's approach to audio is slightly different than mine, but it does sound pretty dang good none the less. If you don't know Tim by name you'd probably recognize the Gradient Helsinki (the white speaker in the middle of the above image) loudspeaker he imports and was on the cover of Stereophile v33 no.8 and reviewed by Art Dudley.  You can read Art Dudley's the review Gradient Helsinki here.   Tim has a pro-audio slanted approach but he knows good audiophile sound.
The purpose of the visit was to hear a new entry level, bundled package, computer based system, that Tim is starting to promote. The RME Babyface DAC with DNM XLR cables and PSI A14 active monitors. Â  The RME is a USB interfacing 96Khz/24-Bit DAC that uses rather pro-like mixing software to control it. Â It is actually meant to be used as a mobile recording studio or band for musicians on the go. Â But it actually works great for computer audio as well. Â One uses iTunes or some other source software to play the music, the RME Total Mix EQ software to hand levels, output, and EQ functions if one would like. Â The PSI A14 active monitors are bi-amped linear 70-30W RMS speakers that drop to a surprisingly low and clean sounding 65Hz.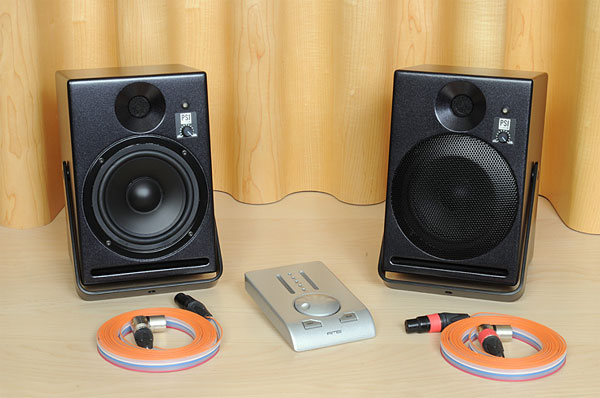 (image from hometrialaudio.com)
(If you are interested – pick up the Feb 28th 2011 copy of The Absolute Sound – Steve Stone reviews the PSI A14 in it.)
But hearing the A14s and picking up the bundle for a review wasn't my only purpose. Â We did a lot of A/B testing between the RME/Benchmark 1 DACs, the DNM XLR vs. the new DNM XLR with HFTN (High Frequency Termination Network). Â I also got to hear the larger PSI A215-M and the super large A25-M + A25M sub. Big sound from the A25 combo. Very big and clean sound.
XLR is XLR isn't it?  Well DNM's new HFTN (pictured above) ends that question.  At roughly $800 for a 10ft pair, the DNM HTFN cables offer a clearer, more specially separated instruments and vocals, and a sound that delves deeper into the tonal realism of the music.  I have a pair at home now and have been using them between the A14 and RME but also between the Electrocompaniet PC-1 CDP, the Electrocompaniet PI-2 amplifier and/or Melody AN211 amplifier.  (Read my review of the Electrocompaniet Prelude System here.) The difference is noticeable and with more resolving speakers, I believe worth the investment.  Center channel is more prominent, highs are crisper while still keeping their solidity.  In other words they don't thin or tin out.  Bass is much cleaner and punchier and staging is improved.
While A/B demoing at SimpliFi what I found to be most interesting was that the improvement between the Benchmark DAC1 versus the RME was much smaller than the improvement between the DNM XLR cables vrs. the DNM XLR with the HFTN. Â Now this could be because the regular DNM XLR just aren't all that, so the step between the XLR with and without the HFTN could be significant. Â As a captive audience it would be a set up. Â So at home I've been comparing both DNM XLRs to the XLR cables from Electrocompaniet. Â There is a difference, but more on that in my review up coming review of the RME bundle.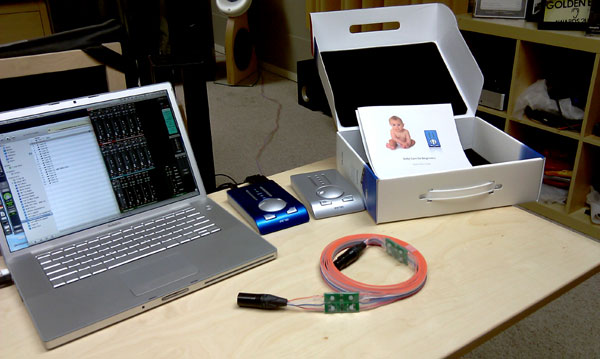 (RME & DNM w/ HFTN XLR)