I love music. I love not just listening to music, but the whole music experience because there are so many levels and "components" involved in the whole subject. From music composition, to playing instruments, to recording and production, and finally to playing music on component audio systems, the subject is vast, creative, and personal. There is some area for each and every person in which to participate. Regardless of any creative or technical ability, every person can find some music-related activity where their particular talents or yearnings will find an outlet. The fact that there are so many successful endeavors in every area of the musical universe is both a testament to the creativity of our species and absolute proof that every style, every characteristic, every quality of every area of music will find a welcome audience.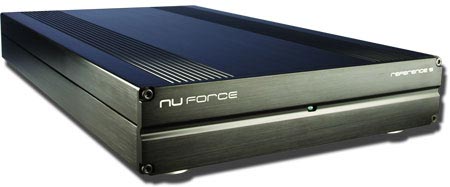 I offer the preceding observation to introduce the Nuforce Reference 9 Version 2 Special Edition power amplifiers to you and to prepare you for a set of observations that will likely find resonance with other music lovers, if not the majority.
The main comparison amplifiers are the outstanding Marantz Reference MA-9S2 amplifiers, which are 300 Watt mono blocks. Their linearity, resolution, dynamic abilities, and long term enjoyment have earned them true reference status. To compare the $5,000 Nuforces to $15,000 reference amplifiers might seem unfair, but this is the playing field today at 10 Audio. The rest of the review system consisted of a SOTA Cosmos IV turntable, TriPlanar VII u2 tonearm, Miyajima Shilabe and Air Tight PC-1 moving coil phono cartridges, Manley Steelhead phono preamplifier, a Prism Orpheus studio AD/DA converter used with a Bob's Devices step up transformer and Pure Vinyl software RIAA used as another phono stage, Cary 306 Professional and Marantz SA-7S1 CD players, and Marantz SC-7S2 and Sonic Frontiers Line 2 SE+ preamplifiers. Cables included Mogami interconnects, Audience Au24 E and Element Apollo speaker cables, Audience, Element and DIY power cords. A PS Audio Powerplant Premier provides the AC for all of the front end gear. Loudspeakers included my reference Dali Euphonia RS3 monitors, Dali Mentor 5s from the home theater system, JL Audio f112 and Velodyne Optimum 12 subwoofers, and little Solid Team speakers from my computer just to cross-check some of the findings below.
| | | |
| --- | --- | --- |
| | | |
Nuforce Reference 9 V2 SE Specs and info from Nuforce:
The Ref 9 V2SE adds refinement and delicacy to the already excellent-sounding Ref 9 V2. The When used in less than the most revealing systems, the SE's advantages may not be fully realized. As excellent as the Ref 9 V2 is, the Ref 9 V2 SE takes its strengths to an even higher level. These include:

Sweeter highs, without any compromise in frequency extension.

A smoother and more palpable midrange, while preserving the natural harmonic structure for which the Ref 9 V2 is famous. The Ref 9 V2 SE is one of the few amplifiers in the world that does not impart a signature on the music. Â This results in a more natural and relaxed presentation.

The bass remains the amp's a huge strength.  The Ref 9 V2 SE has same tightness and texture of the standard  Ref 9 V2, but with a little more weight.

The stage is more coherent and deeper.
In summary, the SE's sound is more neutral and liquid, with a more relaxed yet powerful soundstage presentation.
POWER OUTPUT

| | | | |
| --- | --- | --- | --- |
| Power/Load | 8 ohm | 4 ohm | 2 ohm |

Peak Power (20 msec hold time)

Power bandwidth: 100 to 20 kHz +/- 0.8 db 10 Hz -0.5 db 60 kHz -3 db

THD+N = 0.03%, 1kHz, 10W

Input impedance: 45K ohm

Gain: 27 db

SNR = 100 db at 100W

Eichmann Cable Pod binding post for spade and banana plug

Chassis is made of high-grade anodized brushed aluminum to reduce audio resonance

Dimension: 8.5″ x 14″ x 1.8″ (height does not include feet)



More information on NuForce website.
The top 5 reviewed products from NuForce.
About 10Audio
10Audio content is shared with the consent of 10Audio. Don't know about 10Audio? Check them out. Here is 10Audio's hi-fi philosophy. "This site is by audiophiles for audiophiles. Our experience includes more than 30 years of audio sales, DIY, and consulting services. So if you are interested in another "qualified" opinion, please read on.You won't find any advertising so impartiality is assured. Sometimes it takes a while to post a review. Thank you for your patience. This site is BS-free, which, as you know, is an entirely relative statement." www.10Audio.com