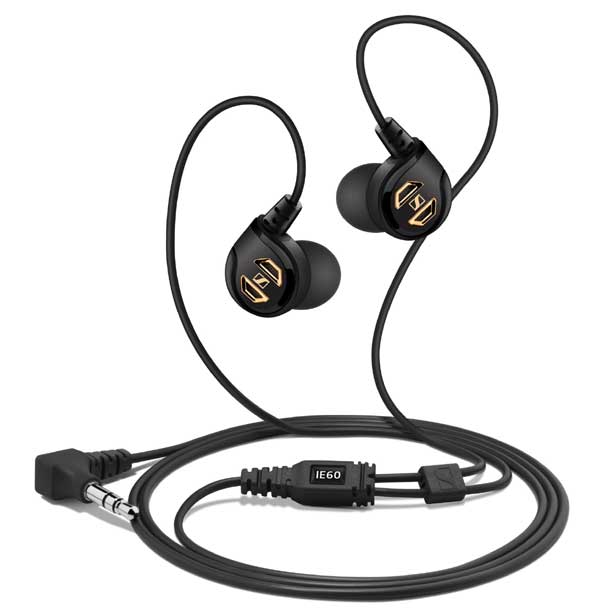 OLD LYME, Conn. – December 19, 2011 -
 This year at CES, audio specialist 
Sennheiser
 will be presenting the latest models of its Professional earphones series, the IE 60 and IE 80. These models were developed as a result of Sennheiser's broad experience in the professional music sector. With a sound quality precision that is virtually unrivalled in the portable segment, the IE 60 and IE 80 ear-canal phones are aimed at music enthusiasts who crave the best possible audio quality.
"The IE 60 and IE 80 ear-canal phones are ideal for discerning listeners who want to hear music with the finest possible detail," explained Eric Palonen, senior product specialist for Sennheiser's consumer electronics division. "Based on the huge success of our earlier models and the overwhelmingly positive feedback from our customers, we developed new models that have an even more innovative design."The IE 60 and IE 80 each benefit from Sennheiser's expertise in the professional monitoring sector. The ear-canal phones use dynamic transducers that cover the entire frequency range with a single system. Distortion is therefore kept to a minimum, even at high sound pressure levels. Also, the design and accompanying ear adaptor accessories allow for the best possible attenuation. The top-of-the-range IE 80 model achieves a noise attenuation of up to 26 dB, and both earphones can be used for monitoring. They are also ideal for MP3 players, Apple iPod*, Apple iPhone* and other portable devices and mobile phones.
IE 60: High-resolution sound with excellent bass reproduction 
The IE 60 delivers modern pop and rock music with impressive precision and high-resolution bass reproduction. It features passive noise attenuation of up to 20 dB, with a frequency response of 10 to 18,000 Hz. The IE 60 design features luxurious brass accents that contrast the matte-black finish of the earphones. Its rugged housing and cabling make it suitable for even the most demanding situations.
The IE 80 earphones from Sennheiser (click on image for hi-res).
IE 80: Perfect pitch 
Those who want more control over the sound will prefer the top-of-the-range the IE 80 model earphone, which includes a unique sound tuning function. By using a miniature rotating control, the user is able to increase or reduce the bass response as required. The IE 80 has a lifelike, detailed sound and features a frequency response of 10 to 20,000 Hz with a passive noise attenuation of up to 26dB. Aesthetically, the earphone features subtly attractive brushed aluminum textures, which enhance its classic visual appeal. The IE 80 includes a rugged housing with an interchangeable cable, and comes with an elegant carrying case complete with special drying pads that protect the earphones against humidity when stored.*iPhone and iPod are registered trademarks of Apple Inc. in the USA and other countries.
About Sennheiser
Sennheiser is a world-leading manufacturer of microphones, headphones and wireless transmission systems. Established in 1945 in Wedemark, Germany, Sennheiser is now a global brand represented in 60 countries around the world with U.S. headquarters in Old Lyme, Conn. Sennheiser's pioneering excellence in technology has rewarded the company with numerous awards and accolades including an Emmy, a Grammy, and the Scientific and Engineering Award of the Academy of Motion Picture Arts and Sciences. For more information, please visit 
www.sennheiserusa.com
.