For $799 you to can experience the mystical 'aaaww' of Blu-ray on a portable 9″ screen. Even better, if you have portable ethernet you can get on BD-live, isn't that awesome! I know the back seat of my mini-van has at least four Gigabit ethernet connections….yadda yadda, please… I can see how, if you only owned Blu-ray disc this would be great to keep the kids entertained during the family vacation. But for $800 you could have a much cheaper, probably just as good looking, portable DVD player, along with several cheap DVD's. Not to mention that DVDs are often sold at your local 7/11, making a portable DVD player much more media friendly on that road trip. Good luck Panasonic….
- audioREIVEW
---
Panasonic Ships First Portable Blu-Ray Player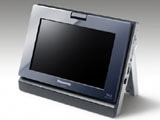 Panasonic's DMP-B15 portable Blu-ray player sports an 8.9 inch screen, HDMI output, SD storage, and – if you've got Ethernet – support for Viera Cast and BD Live content.
Just in time for road-trip season, Panasonic has announced the availability of its DMP-B15 portable Blu-ray player. It's just like those small-screened portable DVD players that were all the rage a few years ago, except this one also handles Blu-ray content. And, if you've got Ethernet available at grandma's house or in a hotel room, it'll even connect up to BD Live content and Panasonic's Viera Cast service for more content.
read the rest at digitaltrends…
source: digitaltrends.com