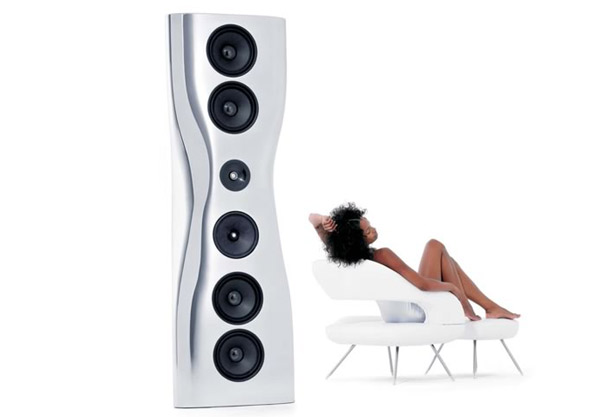 Remastered Disc Relayed through Five Muons and Two Reference 209 Subwoofers
Marlboro, N.J. – November 16, 2011 – The Who's Quadrophenia: The Director's Cut received its official launch at an event staged at Bush Hall in Shepherd's Bush, West London – with KEF loudspeakers providing the music. In a unique 5.2 configuration, five of KEF's stunning Muon loudspeakers, backed-up by two KEF Reference Series 209 subwoofers gave an outstanding performance of musical clarity and power.
Around 250 special guests – including The Who's Roger Daltrey – were treated to a playback through the KEF speakers of two tracks from Quadrophenia, 'The Rock' and 'Love Reign O'er Me'. The tracks were remixed for the album by legendary sound engineer Bob Pridden and The Who's Pete Townshend in glorious quadrophonic sound.
Following the demo, Townshend gave the audience a roller-coaster ride through the history of Quadrophenia and shared his thoughts and feelings about it, saying that it was, in his mind and heart, the last great Who album, after Tommy and Who's Next.
For more information on KEF, please visit http://www.kef.com.
About KEF
KEF's ethos has always been based on the continuing quest to find new and better ways of reproducing sound. Since our establishment in Maidstone, Kent in 1961 by Raymond Cooke O.B.E., KEF has maintained a flair for unusual and controversial speaker engineering, design and material use. KEF has always driven innovation in sound with examples including its iconic 'egg', Muon and Blade speakers. KEF is part of Gold Peak Group and its products are available in more than 60 countries. This year KEF celebrates its 50th anniversary and is committed to building on its strong heritage.  
About KEF America, Inc.
KEF America, a division of KEF Audio, offers loyal North American audiophiles a line of innovative speakers and components unmatched in the industry for quality and innovation. Headquartered in Marlboro, New Jersey, KEF America shares the same guiding principles as its British counterpart: ground-breaking design, exceptional sound and an unshakeable commitment to excellence. For additional information about KEF and its award-winning products and unique technology, please visit www.kef.com.