New Fire-Resistant CL3-Rated Cable Approved for In-Wall and Between-Floor Use in Residential and Commercial Installations
CES '09, LAS VEGAS, Jan. 8, 2009 — Lenbrook America, exclusive U.S. importer of QED, the leading British specialist cable brand, is pleased to announce the introduction by QED Cables of QED Professional Silverline Five loudspeaker cable, ideal for use as a speaker cable in walls and between floors, at the 2009 International Consumer Electronics Show.
Silverline Five is QED's first audiophile quality speaker cable to be fully rated by Underwriter Laboratories (UL). It meets the UL-CL3 standard for in-wall use, the UL13 standard for Power Limited Cables, and the UL-CL3R standard for use as a certified Riser cable that can safely be used between floors in both residential and commercial locations. The cable brings hi-fidelity purist performance to the custom installation market.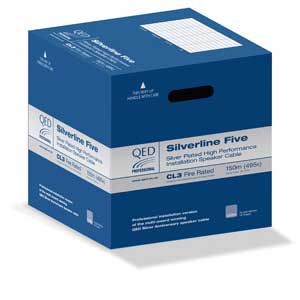 source: ecoustics.com