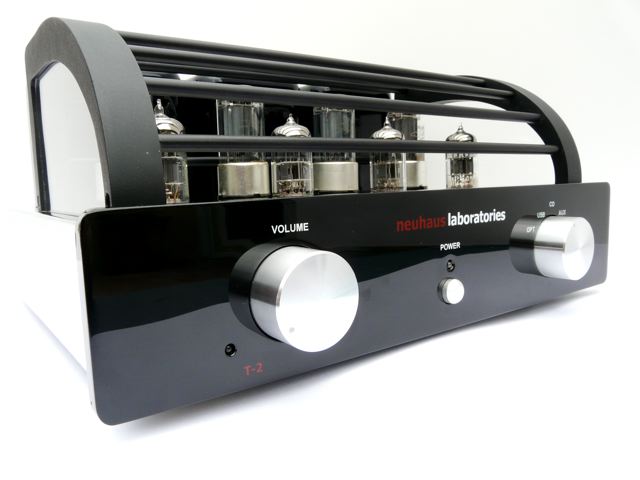 Neuhaus Laboratories introduces the new T-2 Integrated Vacuum Tube Amplifier designed for todays digital music files. Give life to flat digital audio. Designed for true plug and play with PC's and Mac's.
Just attach the USB to your computer and the T-2 amp and music is automatically  played through the vacuum tube amplifier. Two digital inputs USB and Optical (SPDIF/Toslink) and 3 analog inputs. Play all your ITunes files with exceptional clarity and depth.
source: George Golik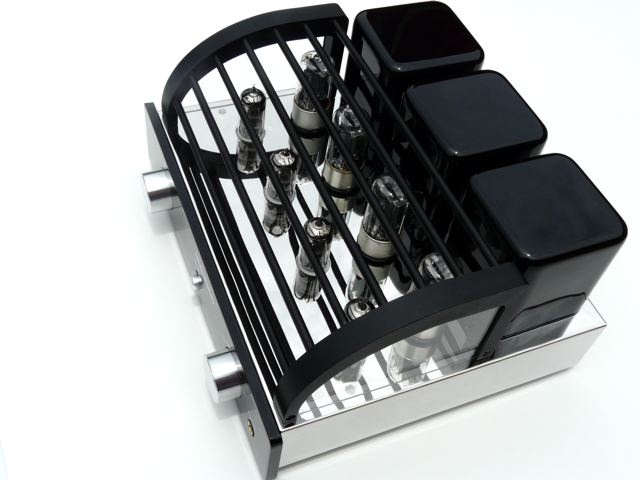 from www.neuhauslabs.com
The Neuhaus Laboratories T-2 Amplifier is built to last. Typically, most big name audio components are mass-produced, primarily of plastic components and are often large in size and difficult to set up and operate. Have you noticed how many buttons and switches they have. The rear connector panel has so many inputs even Einstein would be intimidated. The T-2 Amplifier has an elegant retro look and is built to last with a sturdy steel and stainless steel body, not plastic. Even the knobs are of high quality produced in Japan. It is engineered to provide a long life, and is simple to set up and to operate.
The T-2 Amplifier has a beautiful black high gloss piano finish on the front steel panel and the transformer covers. The body is a mirror finish stainless steel. The tube cover is flat black with clear polycarbonate side panels.
Gold plated input jacks (3) and speaker connectors.
Slow Start Power On Switch-This feature extends the life of the components and the tubes by powering up slowly (about 15 Seconds) every time you turn it on.
Specifications
T-2 Amplifier is a true Push Pull Vacuum Tube Amplifier (not solid state)
Output- 20W x 2
Frequency Response-10-30KHZ
Output Impedance-4ohm-8ohm
Harmonic Distortion-1.5%(1KHZ)
Input Sensitivity-1000mv
Input Impedance-50Kohm
Signal to Noise ratio-85db
Power Consumption 100W
Weight-19.8lbs 9kg
Dimensions-11.5 (W) inches x 11.5 (D) inches x 6 (H) inches
Tubes 4-6N7 2-6N1 2-6N3
Homemade out put transformer is made with two special designed EI steels and the OFC wire by our technicians. It has high frequency range with low distortion.
Stainless Steel Case
Japanese ALPS Motor potentiometer
Steel Black Piano Black Glossy Finish Front Panel
Mirror Stainless Steel Body
Removable Flat Black Steel Tube Cover/Clear Polycarbonate Side Panels
Volume Remote Control
Slow Start Power On
USB and Optical/Toslink/SPDIF Input
3 Rear Gold Plated RCA style input jacks
Gold Plated speaker connectors
MSRP: $795.00