As I was walking down the 4th floor hall a name caught my attention. Â Jumping Cactus Loudspeakers. Â Really? WOW, that is an interesting name, lets go check this out. Â I walked in and knew I was some where special, it had to be, I was the only one there!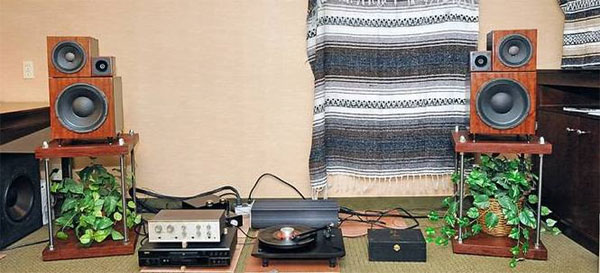 (above image not from RMAF – mine was too dark – from jumpingcactusloudspeakers.com)
James M Harrell, Jr. PE has created completely isolated and closed aluminum box speakers that can be positioned into your own custom set-up.  In other words, since each box is isolated and independent of the others, you can stack it however you'd like. You can bring the tweeter a little more out front of the mid woofer, which could be a bit more out from of the bass woofer.  Of you could stack it or whatever, your choice to fit your ears. See the image below.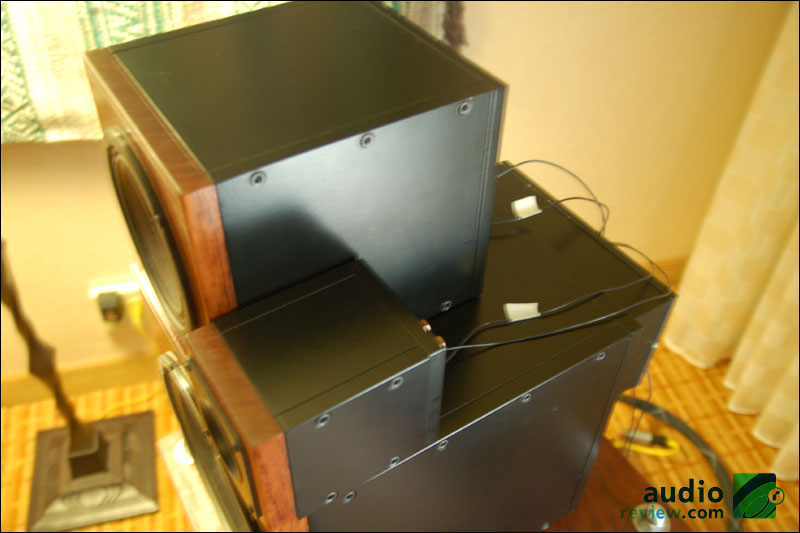 They can be, and in this photo are, held together with Velcro.
Now in all honesty I wasn't too thrilled with the sound when I walked in.  James was spinning an old Zappa record and it just wasn't catching my attention.  So we started to talk about his set up and he said I should hear a CD because he runs his CD player off a car battery.  Why? You are probably asking, would someone do that?  James said it converts the sine like electrical wave into a nice square wave.  (Note, according to James not all car batteries are the same, so you have to put it on an oscilloscope to find a battery that gives you the squarest wave possible.)  And again, why would this matter? Well appearently it creates an incredibly fast sound when running the CDP.  So we put on an SACD of Dire Straight's Money for Nothing, kicked on the sub woofer because even though there are 10″ woofers in these speakers they are in a sealed box and only go down to 65Hz, turned up the volume and OMFG this guy wasn't joking.  The sound of the drums, tom rolls and guitar was so clean, fast, and had a deep black space the sound just jumped out of straight at my face, it is incomparable to anything else I heard at RMAF.  If I was a rocker, I'd have this set up in a heart beat.  Thanks James for the experience. Visit Jumping Cactus Loudspeakers here.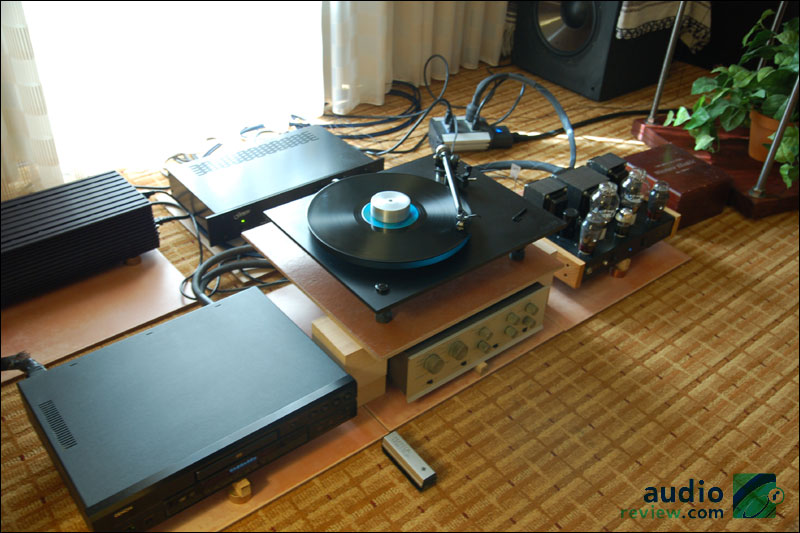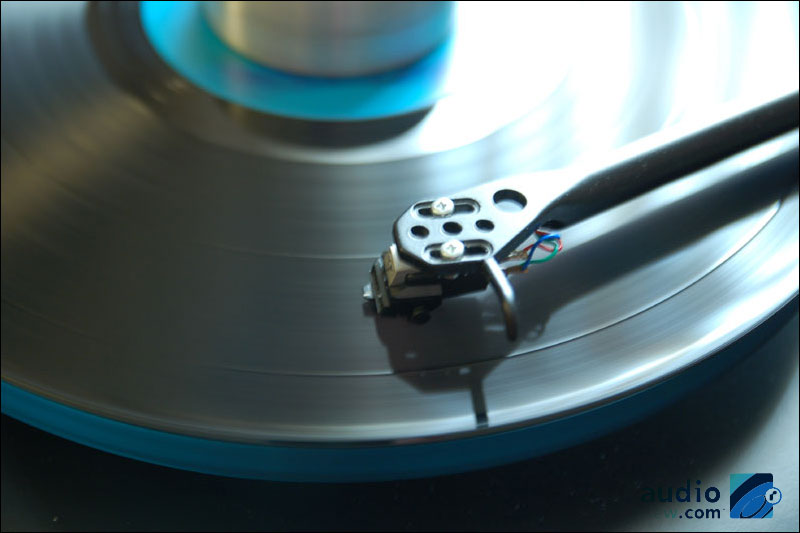 ( I just thought the colors were nice in this photo. )
CANJAM
After another night of semi-sleep, I woke up early to go check out the lobby again.  I had only done a cursory swing through it the first morning, I didn't realize there were so many small and large conference rooms with gear being displayed.  I think I read some where ( on the AudioReview forum here ) that if you wanted to see/hear every room, you could do it but only spend 4.9 minutes in each room.  This is probably not including waking time and waiting for elevator time, nor having lunch. So while wandering around I found, kind of tucked away next to the hotel gym and pool, CanJam. I'd always wanted to go to CanJam.  Please have a CanJam near LA soon… there was so much I missed. One could spend all three days of RMAF at CanJam alone.  And it had some hot girls there too!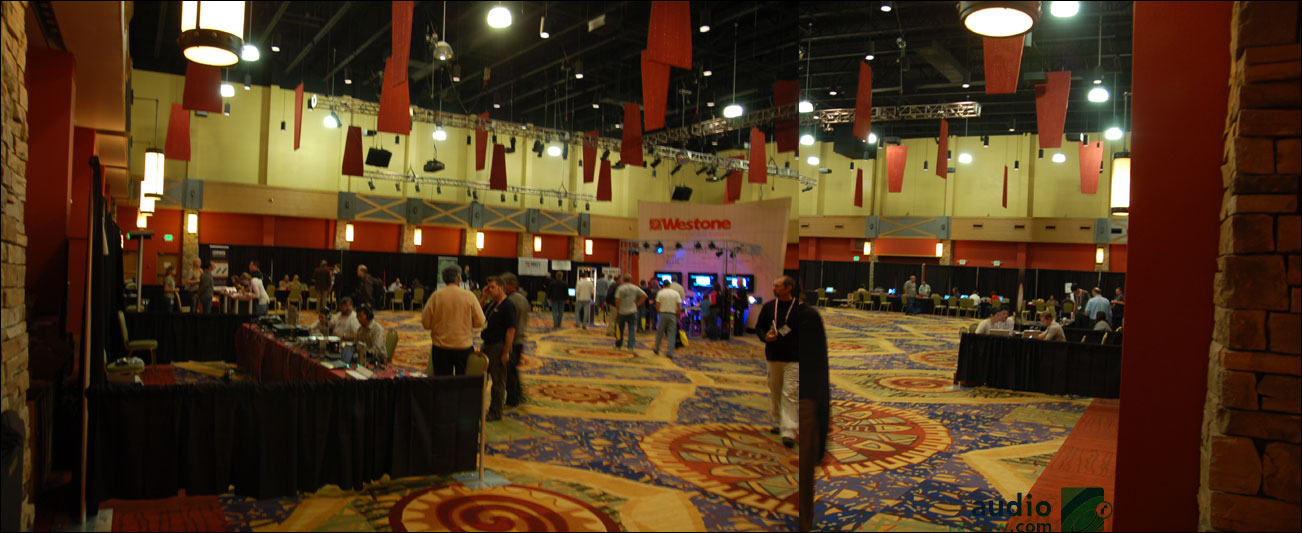 When I saw the CEntrance sign had to stop by.  I had put up a press release some time back about their tiny 24-bit/96khz DACport (third photo down) and had always been interested to hear it.  A little DAC that could drive some really big cans (or at least headphones with a large impedance) is instantly an attraction for me.   I am often on the go and want great audio without having to drag along a lot of gear.  Have you ever tried to lug a headphone amp in your laptop bag through a security checkpoint? Or worried about breaking a tube while dragging your headphone amp on vacation with you?  If the DACport sounded as good as I had read, problems solved.
But first thing I saw was their new DACmini. Â It is the same size and shape as a Mac Mini. Â It has a 24-bit/96Khz DAC and can act as a pre-amp to either your headphones or another set of speakers. Â I gave the system a listen and was very impressed with the clean and vibrant sound. Â I hope to get this in for review soon. Â Visit CEntrance's website for more info.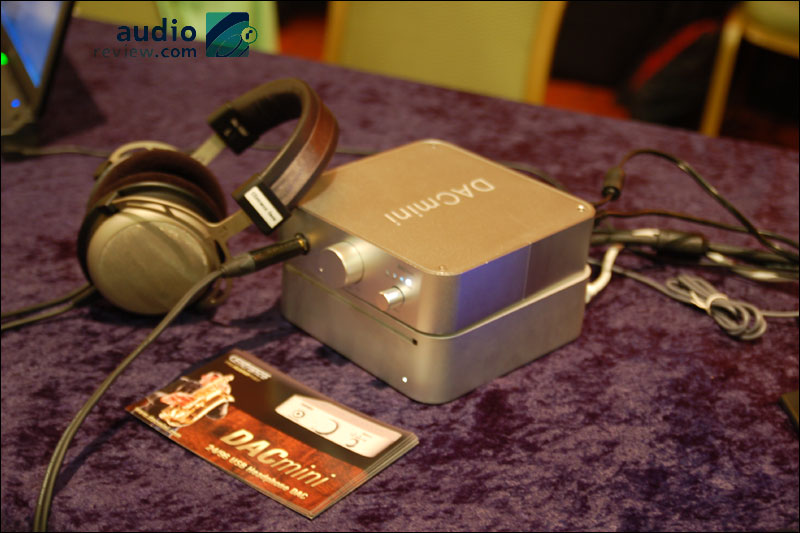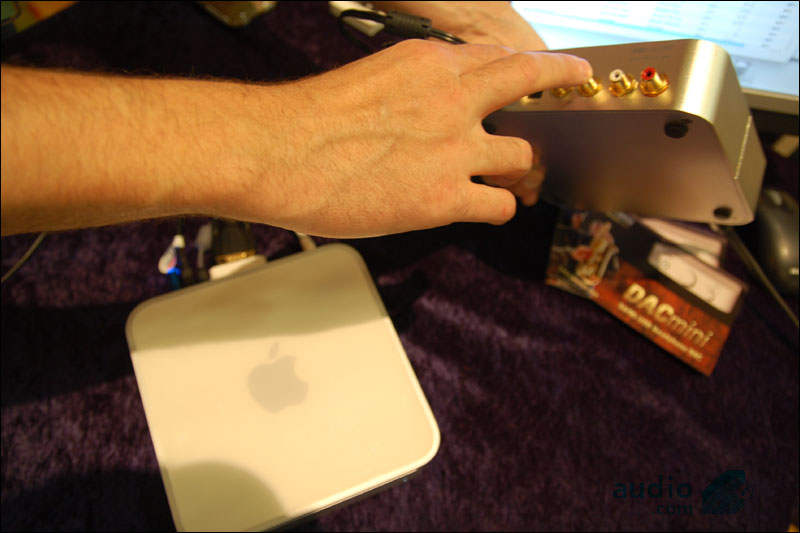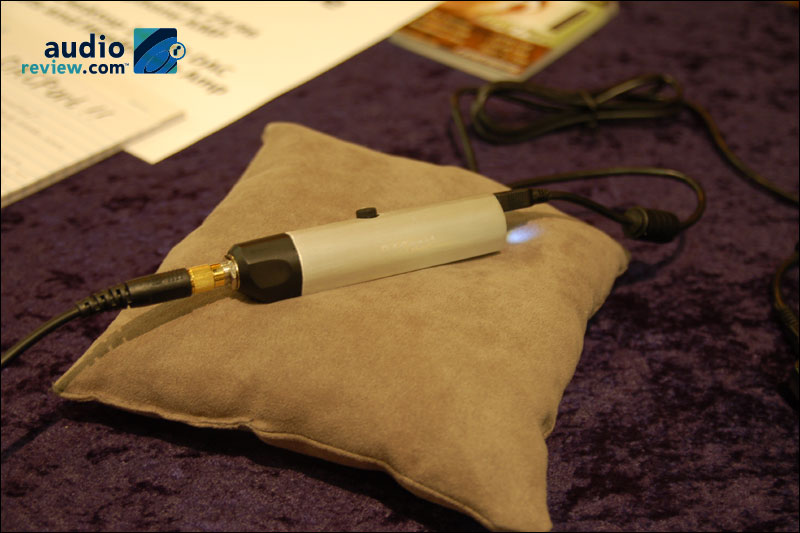 Headroom had a huge display of headphone amps and DACs.  I heard a balanced headphone amp/headphone for the first time.  It offered a very clear and clean sounds with great stereo imaging compared to its non-balanced version.  Balanced is definitely and option worth giving a listen to if you are the market for a headphone amplifier and headphones. Check out Headroom's website here.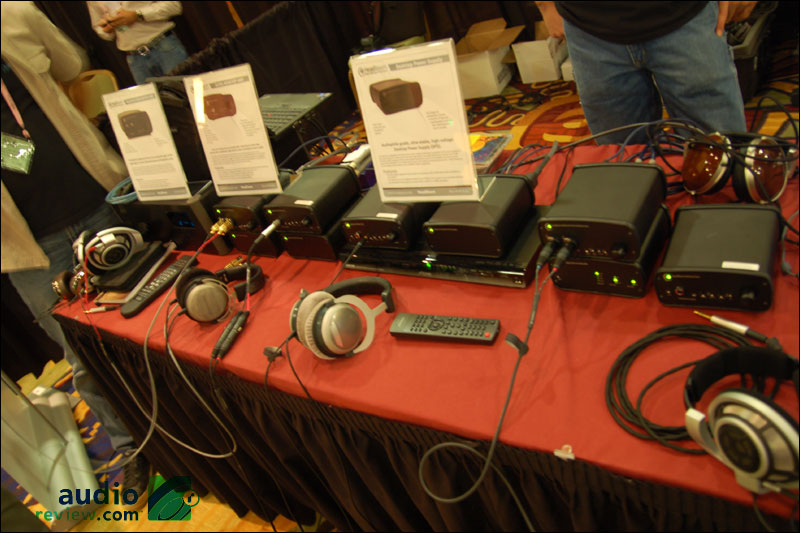 I'm sorry, I misplaced the name of this manufacturer of the headphone amps below, if someone has it please post in comments. Â But this is S.E.T. tube amp using the Audeze LCD-2 headphone, I believe the amp is supposed to be under or about a grand. Â This is by far the most amazing sound I've heard from headphone. Â I know the LC-2 are $945.00. Â I'm saving up and hope to get this amplifier in for review. Â I really didn't want to take off the headphones and I was listening to some yucky, lame female jazz vocals. Â So that says a lot for how full, clean, dynamic this set up was. Â It board lined on real, similar to who the AudioNote room at the California Audio Show sounded. Â Amazing! Visist Audeze's website here.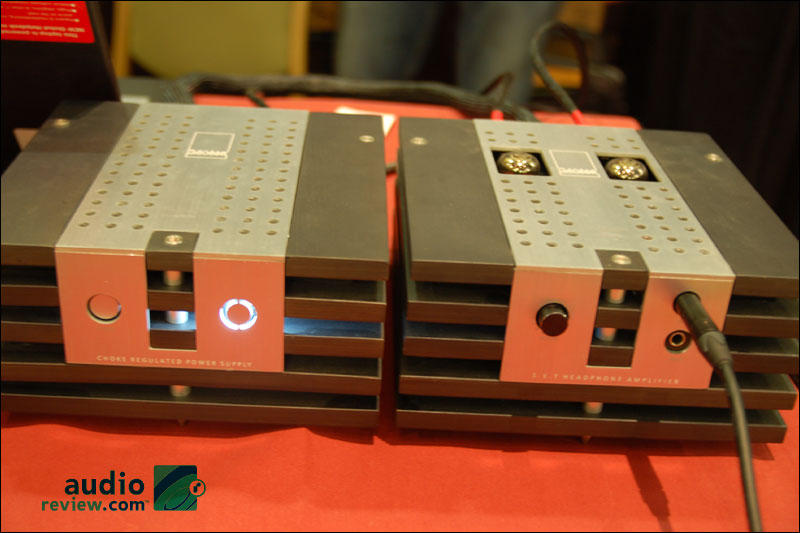 The HIFIMan from Head-Direct. Â I hope that this will some day be an iPod killer. Â Hey I can dream can't I? Â Fang Bian, desired and nanotechnology student has designed what I think is a PMP for audiophiles.
Here are some specs:
Modular Design: Modular Amplifier Bay (Named GanQi Bay) and 14.8 volt Lithium Polymer Battery Bay
Memory: SDHC Card
DAC function: Coaxial (44.1kHz, 96 kHz) , USB DAC (16bit, 48kHz)
DAC Chip: Burr-Brown PCM1704U-K (for Player, Coaxial and USB) ; Op-Amp: OPA627
Size: 114 mm *78mm * 25.5 mm or 4.49 * 3.07 * 1.00 Inch
Output: Headphone out; Line out
Exchangeable Module Battery Life : 7 to 8 hours (Depending upon which Modular Amplifier board is mounted)
The idea is to offer more than just a small digital source, something the iPod has become to the audiophile community.
I have one in for review. Â Check out HIFIMan's site for more details and specs.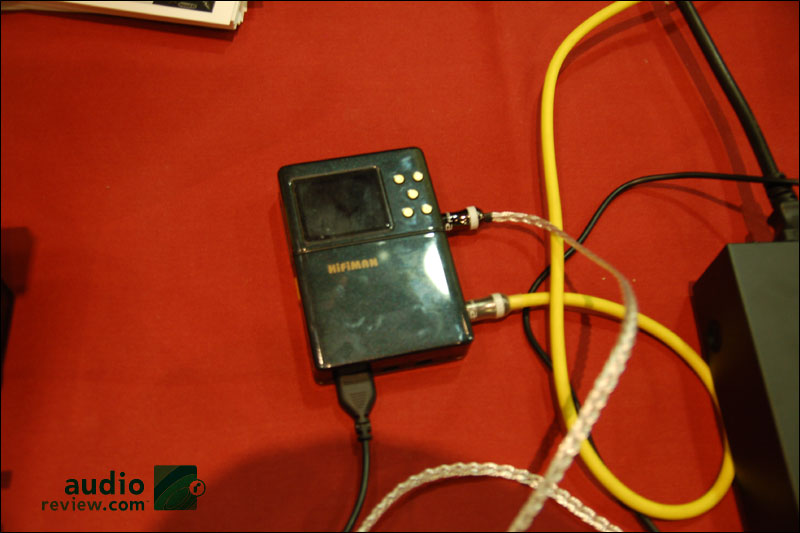 (This is the prototype EF6 Class A single ended headphone amp from Fang Bian.  Nice box but the sound was a bit tinny. But I'm sure with more iterations it will get better.)