Quad updates the critically acclaimed 11L bookshelf speaker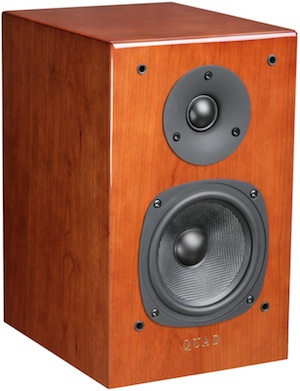 The name alone conjures up absolute nirvana in sound for a large portion of audiophiles.  Now Quad has reviewed every critical component of the 11L for a substantial improvement.
The motor system for the 125mm kevlar cone woofer has been updated for improved linearity and reduction in mid and bass distortion. Â This has increase the staging size and volume of the 11L. Â It maybe little but it can pack a larger room with clean sound.
The 25mm tweeter is also improved. Â It's housing now forms a shallow 'horn' or 'waveguide' that is attached to the front baffle. Â The goal was to reduce the audible crossover region and present a more complete sound.
The crossover itself has been upgraded. Â The system remains simple but the parts are improved. Â This combined with the new baffle improvements creates a seamless sound presentation.
The 11L with its specifically chosen real wood finish that is hand polished is an exceptional beauty at the price point of £379.95 per pair.
via: eCoustics.com
Press Release here
visit: www.quad-hifi.co.uk