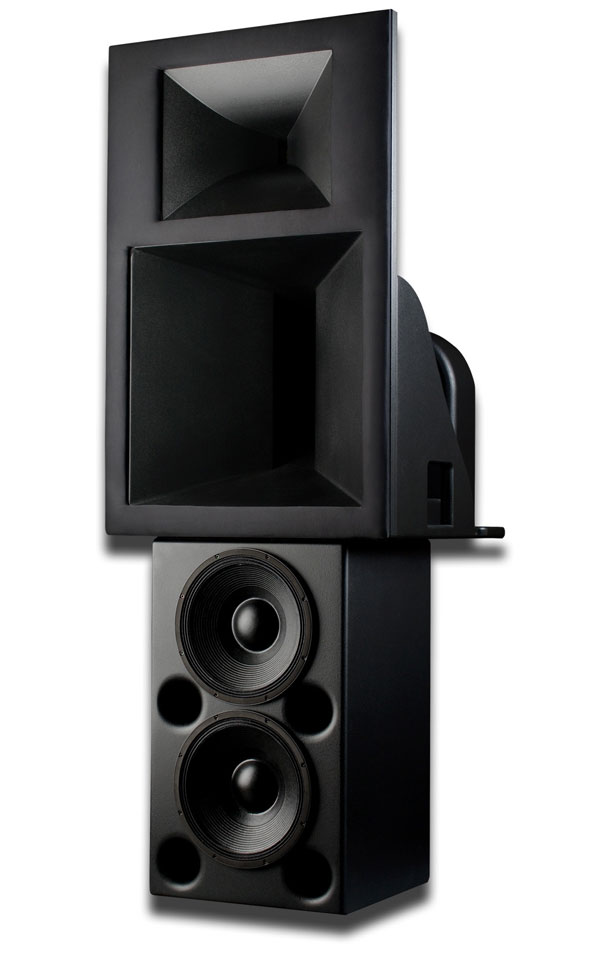 With dual 15-inch, 1400W woofers and a maximum output of >130dB; what started as an exercise to push loudspeaker performance limits is now a reality for audio and home theater enthusiasts.
Huntington Beach, CA – July 24, 2012 - Pro Audio Technology (PRO), the leader in loudspeakers and DSP-programmable amplifier systems for residential properties, today announced the SCR-3215sm loudspeaker, a seven foot tall, 350 pound four-way reference speaker designed for placement behind acoustically transparent screens. The culmination of more than 25 years in high-performance loudspeaker design by lifelong loudspeaker designer and PRO founder Paul Hales, the 3215 is truly a statement product.
Starting with the drivers, Pro Audio Technology went big, opting for dual 15-inch, 1400W woofers which offer a low frequency sensitivity of 102dB with one watt of input power. With over 350 square inches of surface area supported by a massive 30 pound motor system, the 3215 moves a lot of air to produce highly impactful bass. With four-inch voice coils, thermal power handling is maximized, allowing the SCR-3215sm to play at live concert sound pressure levels for extended periods of time without fear of driver failure.
At the heart of the SCR-3215sm's mid/high frequency assembly is a 41-pound ultra high-output (114dB / 1 watt) compression driver. Its seven-inch carbon fiber diaphragm provides pistonic motion over three and one half octaves, resulting in the most effortless, coherent, and dynamically correct rendering of vocals and instrumentation possible. Dispersion and acoustic power transfer are controlled via a constant directivity horn with over 800 square inches of effective radiating surface – more than 40 times the radiating area of a typical cone midrange.
Upper-mid and high frequencies for the SCR-3215sm are supplied via a state-of-the-art coaxial compression driver utilizing an annular polymer diaphragm for silky smooth midrange and treble and uncolored harmonics to beyond 30 kHz. Mated to a large format 18″ x 22″ horn, the high frequency system provides 396 square inches of radiating surface to drive the air; or the equivalent of more than 500 one-inch dome tweeters per speaker. As in commercial cinema systems, the SCR-3215sm mid/high frequency assembly employs tri-amplification to maximize the performance of each driver in the system.
When paired with companion PMA Amplifiers the SCR-3215sm speakers are part of a sophisticated digital cinema system employing advanced DSP to redefine the industry's concept of "accuracy" and sonic realism. Maximum output is >130 dB, making the SCR-3215 the definitive loudspeaker of choice for large to very large room applications, and those who desire a visceral concert experience in their home. Because they are designed to perform behind transparent screens at "Reference Levels" from more than 12 meters away, the 3215′s are also ideal for home theater installations.
"I designed my first loudspeaker when I was 16 and have never stopped looking for ways to improve speaker technology," said Paul Hales, founder of Pro Audio Technology. "The 3215 loudspeaker started as a laboratory experiment to see how far we could push the limits of audio performance, and now it's a reality with orders already in place. Our dealers can't wait to let customers hear them in person."
For more information about Pro Audio Technology products, visitwww.proaudiotechnology.com.
About Pro Audio Technology
Through thoughtful combination of consumer and professional engineering technologies, Pro Audio Technology designs and manufactures a complete range of high-power loudspeakers and DSP-programmable amplifiers for high-end residential installations. PRO products unite lively dynamics, high maximum output level, and rugged durability with the refined acoustic performance you've come to expect from contemporary home audio equipment. The sound system of choice for discerning music and home theater enthusiasts, Pro Audio Technology products are available globally through an elite group of high-end residential custom installers. Pro Audio Technology is the brand name of Professional Home Cinema, LLC.