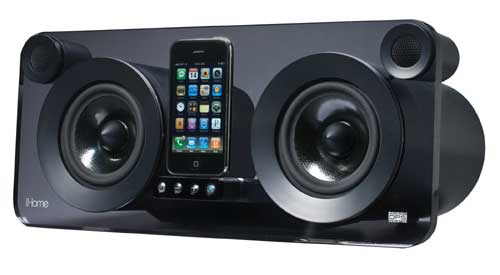 Market Leader in iPod/iPhone Speaker Category Enters High-End Segment With Bongiovi Acoustics' Digital Power Station Technology
RAHWAY, N.J.–(BUSINESS WIRE)–iHome, a leading supplier of innovative iPod/iPhone speaker solutions, today announced the national introduction of its highly acclaimed new speaker system, the iP1 Speaker System for iPod/iPhone. The iP1 is the first product introduced in the company's new Studio Series which features Bongiovi Acoustics' Digital Power Station (DPS) technology: a processor that actively scans the recorded material and compensates for any deficiencies across the audio frequency spectrum, effectively restoring it to the sound the artist originally intended to be heard.
"The iP1 is a bold yet logical step for iHome and it's an exciting challenge to bring our vision of design and sound into the world of high-end audio," said Evan Stein, vice president of Marketing, iHome. "Backed by Bongiovi's DPS technology, the iP1 and our Studio Series line, promises a pure sound clarity that will delight both artists and consumers."
The iP1 Speaker System for iPod/iPhone outputs 100 watts of premium sound through custom designed 4" woofers and 1" silk dome tweeters that are powered by Bongiovi Acoustics' proprietary DPS, and comes with a full-function remote control and component video outputs for connecting to a variety of video equipment.
The iP1 Speaker System for iPod/iPhone is already drawing early praise from the media, including:
* "…an aesthetically breathtaking audio system…" – iLounge.com
* "iSold!" – Maxim
* "Looks sleek, sounds sweet." – New York Magazine
* "The amount of added detail it pulls out is astounding." – Playboy
The iP1 Speaker System for iPod/iPhone is currently available for purchase at Apple and Best Buy, as well as on iHomeaudio.com for a suggested retail price of $299. For more information, please visit www.ihomeaudio.com/iP1.
About iHome
iHome was established in 2005 as a division of SDI Technologies to develop and market iPod electronics. The first iHome product introduced, the iPod Clock Radio, was an unqualified success that became the top-selling iPod accessory for the year, and firmly established iHome as the premier brand in the iPod electronics market. Since then, iHome has been at the forefront of design with a growing lineup of award-winning iPod-compatible audio products that includes portable and home speaker systems, as well as new lines of mobile phone and computer speakers.
Acknowledged for its innovative features, unique designs, and advanced technology, iHome has already garnered several prestigious industry awards and recently expanded its offerings via licensing agreements with Microsoft, SanDisk and Bluetooth to develop audio electronics for their respective media devices and technologies.
iHome supports its franchise with national print, broadcast and online advertising campaigns, and the company's products can be found worldwide in over 50 countries or on the web at www.ihomeaudio.com.
source: businesswire.com