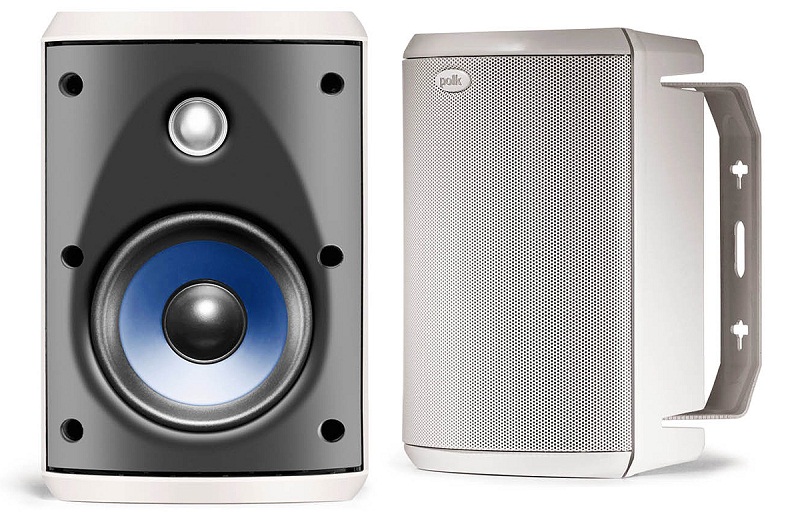 The Polk Audio Atrium 45 out door speakers are made just for that. All weather speakers that are meant to withstand corrosion, cold, wind and water. The Atrium 45 is one of the smallest out door speakers Polk offers and only goes down to 70Hz so bass isn't going to be that captivating. And the sound over all, while smooth in the high and a good mid-range isn't as good as what you'd get in a standard in door speaker from Polk. But that isn't their point, if you are looking for a speaker that can withstand the elements, including salt, than these are for you.

Pros:
Meet and exceed the bass line specifications for military and industrial outside use
Competitively priced
Easy to install and angle in corners
Good control of treble
Cons:
Not the most detailed and compelling
A little bass shy
They can fill with water
All the mounting hardware is made of stainless steel or brass to resist rust for years to come. They are best set up under and eve to last longer but right on the side of an exposed wall will be OK as well. Angle to resist water from getting inside.
The Atrium 45 has a 4-1/2-inch long throw Polymer cone driver with rubber suspension to resist corrosion while sounding pretty good. The 3/4-inch dome tweeter with neodymium magnet has a wide distribution of high frequencies so it can easily be heard across a large and open space.
Most users who have purchased the Atrium 45 love them. With a 4.5 of 5 rating on Amazon out of 99 reviews only 2 people have given them a 1 of 5. That is saying a lot of a speaker that not only has to sound pretty good but handle the elements as well.
More Outdoor Speakers from Polk Audio >>
Search AudioReview forums for the Polk Audio ATRIUM 45 >>