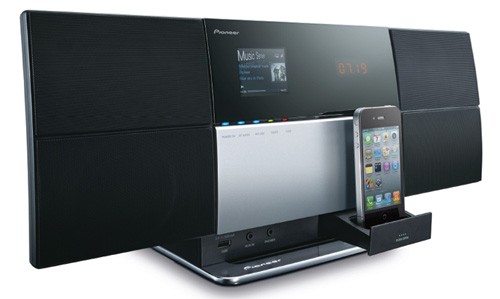 INDIANAPOLIS, Ind. – CEDIA – (Sept. 8, 2011) – Pioneer Electronics (USA) Inc. today expanded its family of Apple AirPlay®-compatible products with the launch of two networked AirPlay music systems called Music Tap.  Available in Pioneer ($399) and Elite® ($479) branded models, the Music Tap systems offer music lovers more ways to access and enjoy their music throughout their entire home regardless of where or how the music is stored.  With AirPlay, enthusiasts have complete access, control and playback of their entire iTunes music library through their Music Tap system connected to the home network, wirelessly or using Ethernet.  Both Music Taps feature built-in WiFiâ"¢ to enable wireless music connection using AirPlay, DLNA® 1.5, vTunerâ"¢ Internet radio, Pioneer's proprietary AirJam¹ app for iPhone®, iPod touch® and iPad® and a 2.5-inch full-color LCD display.
"By incorporating AirPlay into more of our product lines, first with audio/video receivers and now with Music Tap, Pioneer is making it possible for consumers to quickly access and listen to their iTunes® music library throughout the home," said Chris Walker, director AV marketing and product planning for the home entertainment division of Pioneer Electronics (USA) Inc.  "These new systems are great additions to any room or office.  Although they're compact, they produce 'larger-than-life' sound, and because both models are also equipped with a wireless connection, multiple units can be easily placed in different rooms."
AirPlay Connectivity
Music Tap systems enable users to quickly and easily enjoy all their music content with song information and album art simultaneously displayed on a connected monitor/TV.  AirPlay requires iTunes 10.1 or later, or iPad, iPad 2, iPhone 3GS, iPhone 4, iPod touch (2nd, 3rd or 4th generation) with iOS 4.2 or later.  Using Apple's Remote app on iPad, iPhone or iPod touch also enables users to control, browse and access their iTunes music library on a Mac or PC and play it through Music Tap.  Apple's Remote App is available for free from the App Store on iPad, iPhone or iPod touch at www.iTunes.com/appstore/.
Connection to Music Streaming Services – In addition to the music saved in an  iTunes library,  the  Music Tap systems support AirPlay-enabled apps like PANDORA® Internet radio, iHeartRadio® and other music streaming service apps, giving consumers access to a virtually endless playlist.
Crystal Clear Sound – Music Tap's Apple Lossless capability ensures that users will always enjoy high-quality audio with no degradation in sound quality when listening to music encoded with this high-resolution format.
Music Throughout The Home – Music Tap is a great addition to an AirPlay-enabled Pioneer AV receiver for music in any room of the house.  Using iTunes 10.1 or later on a Mac or PC, users can wirelessly stream their music to multiple Music Tap systems throughout the home.
Additional Network Features
DLNA 1.5 Certified – Music Tap's DLNA 1.5 Certification allows consumers to stream their music wirelessly via a home network from any DLNA 1.5 Certified device.  Users can conveniently enjoy high-resolution audio playback with support for FLAC and WAV files from DLNA certified networked device in the home.
vTuner™ – Pioneer adds vTuner Internet radio to Music Tap for endless music entertainment.  With vTuner, users have access to more than 16,000 Internet radio stations around the world.  From the on-screen display, users can choose from different genres, station locations or simply search for specific stations.
Air Jam – First introduced as a feature in its line of AV receivers, Pioneer's free Air Jam app is also available in the Music Tap systems (optional AS-BT200 Bluetooth adapter required for the Pioneer model).  The Air Jam App is available from the App Store on iPad, iPhone or iPod touch or at www.iTunes.com/appstore/ and connects up to four Apple devices via Bluetooth® to create a collective playlist for playback on Music Tap.  Once linked, each user can cue songs from their own music libraries to create the shared playlist.  Each connected device also displays the list of songs added by all users and which device a song plays from.  The Air Jam App conveniently stores the lists of songs created for each session for future purchases at the iTunes Store.
Functionality and Design
The Music Tap systems are "Made for iPhone and iPod" and come with an integrated pop-out dock for playback and charging.
For a high quality listening experience, the music systems are equipped with a 2-channel digital amplifier to deliver clean and powerful audio to any room.  Dual full range drivers in a passive radiator enclosure produce clear crisp high frequencies complemented by deep, accurate bass.  The Pioneer Elite model has been tuned by Pioneer's renowned TAD director of speaker engineering, Andrew Jones.  In addition, the Elite model incorporates built-in Bluetooth and includes a two-year warranty.
Both AirPlay music systems offer an auxiliary input for connecting other audio devices with a mini jack (headphone) output.  For added convenience, both models also feature a USB port located in the front of the system.  USB devices such as hard drives, thumb and flash drives with MP3, WAV, WMA, AAC LPCM, and FLAC files can all be accessed using the included remote control.
For added convenience, both systems feature a control app for iPod touch, iPhone and iPad, available on the App Store.
Pioneer Music Tap systems will be available to consumers in October 2011.
It all began with a passion for music that Pioneer founder Nozomu Matsumoto hoped to share with the world.  He started Pioneer in 1938 as a specialty speaker company, building products out of his garage.  Today, Pioneer's Home Entertainment and Business Solutions Group continues Matsumoto's enthusiasm, developing award-winning audio and video home theater products including A/V receivers, Blu-ray Discâ"¢ and DVD players, and speakers.  Long-standing partnerships and collaborations with the creative community have provided Pioneer unique insight in its quest to capture the purity of a movie or musical artist's original vision into its broad range of home entertainment products.  The company's brands include Pioneer® and Elite®.  More details can be found at www.pioneerelectronics.com.
¹ Noise and interruption may be caused when the iPod touch/iPhone/iPad is connected to other Bluetooth devices. This application is developed and checked for operation under iOS 4.2 or later. The number of connectable devices or compatibility may differ when other software versions are installed.
PIONEER, the PIONEER logo and the ELITE logo are registered trademarks of Pioneer Corporation.
AirPlay, iPod, iPod touch, iPhone and iTunes are registered trademarks of Apple Inc.  The AirPlay logo is a trademark of Apple, Inc.
"Made for iPod" and "Made for iPhone" mean that an electronic accessory has been designed to connect specifically to iPod or iPhone, respectively, and has been certified by the developer to meet Apple performance standards.  Apple is not responsible for the operation of this device or its compliance with safety and regulatory standards.  Please note that the use of this accessory with iPod or iPhone may affect wireless performance.
Bluetooth® is a registered trademark of Bluetooth SIG, Inc.
DLNA, the DLNA Logo and DLNA CERTIFIED® are trademarks, service marks, or certification marks of the Digital Living Network Alliance.
vTuner is a registered trademark of Nothing Else Matters Software, Ltd.