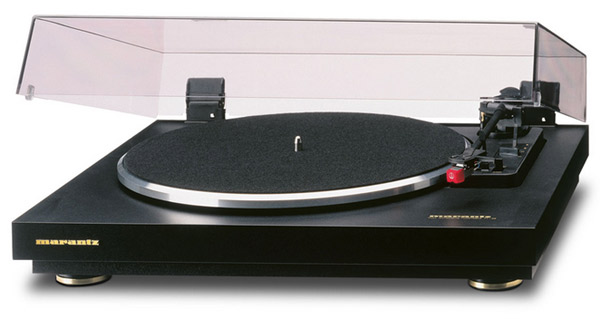 – Stylish, High-Performance and Affordable New Turntable Joins Marantz' Full Line of Leading-Edge Analog Audio Components –

Mahwah, NJ, October 26, 2011 – Marantz America, a world leader of advanced home entertainment solutions, today announced the introduction of its TT42 High-Performance Turntable (SRP: $399) (http://us.marantz.com/TT42). The meticulously engineered DC Servo belt-driven TT42 is designed as an entry-level turntable ideally suited for the growing numbers of music lovers who are discovering – or rediscovering – the benefits of an analog vinyl listening experience. Notably, for music lovers with amplifiers or receivers that do not include a dedicated phono stage input, the TT42 is also available with a built-in phono preamplifier that boosts volume and equalizes sound, for a suggested retail price of $429.
Advanced, Entry Level Source Component for Analog Listening
The Marantz TT42 offers total user convenience and musical superiority, with a specially designed Moving Magnet cartridge for stellar performance right out of the box. Its low-noise DC servo motor is smooth and quiet running, with a fully floating chassis for uninterrupted LP play. The automatic tone-arm return and stop functions deliver trouble-free operation, while the metal bearing and rubber belt drive add to the response, musicality and overall performance of the component. The result is a vinyl listening solution superbly suited for the modern age, one that will allow everyone to enjoy their old and new record collections in style.
Noted Jim Ludoviconi, Brand and Product Manager for Marantz America: "Recent figures from the Recording Industry Association of America (RIAA) show that vinyl LP sales grew 26% in 2010. The resurgence of interest in vinyl music comes as a welcome development for Marantz, which has always understood and appreciated the rich, pure and warm musicality provided by analog gear. That's why we have continued to offer analog music lovers a full range of the world's most sophisticated, easy-to-use, high-performance analog componentry. With the introduction of the TT42, we are giving more people the opportunity to enjoy the elevated vinyl listening experience at a new accessible price."
About Marantz
Marantz America, LLC is committed to upholding the tradition of technological superiority initiated by founder Saul Marantz. In keeping with this emphasis on quality, Marantz audio and video components are carried only by the nation's premier audio/video specialty retailers. Additional information is available at www.us.marantz.com and www.facebook.com/marantzamerica. Marantz America, LLC is a wholly owned subsidiary of D&M Holdings Inc.
About D&M Holdings Inc.
D&M Holdings Inc. is a global operating company providing worldwide management and distribution platforms for premium consumer, automotive, commercial and professional audio and video businesses including Denon®, Marantz®, McIntosh® Laboratory, Boston Acoustics®, Snell Acoustics, Escient?, Calrec Audio, Denon DJ, Allen & Heath, D&M Professional and D&M Premium Sound Solutions. Our technologies improve the quality of any audio and visual experience. iPod is a registered trademark of Apple Inc. All other product and brand names with a trademark symbol are trademarks or registered trademarks of D&M Holdings, Inc. or its subsidiaries. For more information visit www.dm-holdings.com.
DISCLAIMER
Statements in this news release that are not statements of historical fact include forward looking statements regarding future events or the future financial performance of the company. We wish to caution you that such statements are just predictions and that actual events or results may differ materially. Forward looking statements involve a number of risks and uncertainties surrounding competitive and industry conditions, market acceptance for the company's products, risks of litigation, technological changes, developing industry standards and other factors related to the company's businesses. The Company reserves all of its rights.