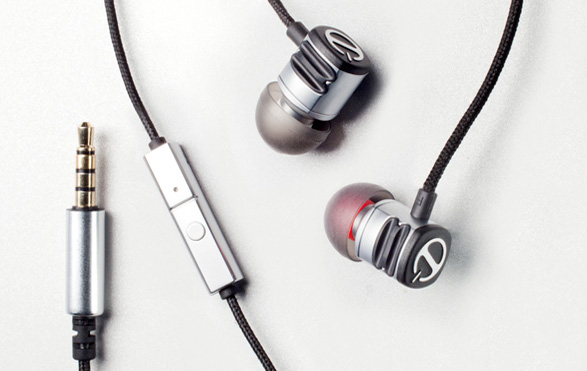 New earbuds and sport ear hooks can be purchased using new shopping cart function available on the Paradigm SHIFT website or from dealers nationwide.
 
Las Vegas, NV – International CES 2011 – January 10-13 – Venetian 30-336 – Paradigm SHIFT™ by Paradigm Electronics Inc., an international leader in speaker design and manufacturing, announces three new earbuds engineered in the company's Canadian factory as well as a pair of Sport Ear Hooks manufactured in-house. With 30 years of sound research, development and manufacturing behind it, the Paradigm brand is synonymous with high quality audio at a value price. Paradigm SHIFT follows the same objective, creating high-quality earbuds that replicate the sound of their high-end speaker lines.
 
Unlike most other speaker and headphone manufacturers, Paradigm has its own audio research and development facility, complete with a 36,000-cubic-foot anechoic chamber for taking accurate sound measurements. The company also has multiple double blind listening rooms used to test every product. Specifically for earbuds and personal audio products, Paradigm SHIFT employs an advanced head and torso "manikin" that acts as a human simulator, measuring the sonic properties while helping with ergonomic design and frequency response adjustments. The SHIFT team has affectionately named their manikin, Angelina. Paradigm applies the same stringent sonic testing and quality control on SHIFT earbuds as on its flagship Paradigm Reference speakers. SHIFT earbuds are critically tuned to Paradigm's three main speaker lines: Monitor, Studio and Signature. Models are stepped in the depth and degree of bass offered.
Designed for portable personal audio, PC and gaming, the E1, E2m and E3m earbuds were built for comfort without sacrificing performance. Bass performance is enhanced by a rigid connection between the tip and actual earbud, lessening the loss of low frequencies. All three are available in black and white finishes and feature an air tight seal for superb noise isolation, three sizes of tips for ears of all sizes, a tangle-resistant 1.2 meter cord and a padded travel case/pouch for protection. The E2m and E3m models also feature an in-line remote and microphone that allow users to pause and play music as well as answer and disconnect telephone calls with one click. Available as an optional accessory (sold separately) is a pair of Sport Ear Hooks in a one-piece, comfy-curve molded polymer designed and manufactured in-house. Made for Paradigm SHIFT earbuds, new sport ear hooks sit snug around your ear even during the most intense physical activity.
"We've taken every possible step to ensure the new Paradigm SHIFT earbuds stand out in the over-crowded, over-hyped world of personal audio," said Mark Aling director of marketing for Paradigm SHIFT. "We feel earbuds should sound as good as they look. Considering the depth of research and expertise put into performance, aesthetics and comfort, Paradigm SHIFT will quickly earn its place as an elite brand, inspiring a new generation of audio enthusiasts."
Paradigm SHIFT earbuds are available from select dealers throughout North America and also direct from the Paradigm SHIFT website:www.paradigm.com/shift, from the new shopping cart function. Music lovers can find SHIFT products at local audio / video specialty stores by using theParadigm dealer locator and contacting the closest representative. Sport Ear Hooks will be available soon through the same distribution channels.
SPECIFICATIONS
E1 – Critically tuned to Paradigm's Monitor Series 7 speakers.
Drivers: 8-mm super-neodymium
Sensitivity: 103 dB
Frequency Response: 10 Hz – 18 kHz
US FMV is $49.99/ea
 
E2m – Critically tuned to Paradigm's high-end Reference Studio speakers, the E2m are a two-piece sealed construction.
Drivers: 8-mm super neodymium
Sensitivity: 104 dB
Frequency Response: 10 Hz – 19 kHz
US FMV is $99.99/ea
 
E3m – Critically tuned to Paradigm's ultimate high-end Reference Signature speakers, the E3m are crafted from one-piece CNC precision-machined aluminum.
Drivers: 8-mm super-neodymium
Sensitivity: 105 dB
Frequency Response: 8 Hz – 19 kHz
US FMV is $129.99/ea