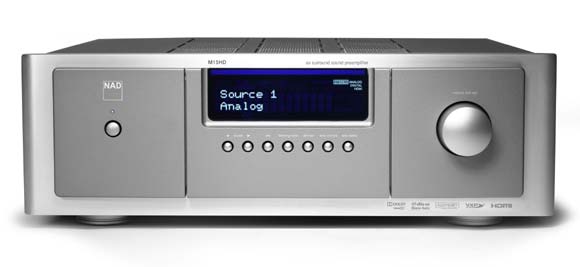 NAD has introduced two new amplifier products to start the year: the M15HD surround sound preamplifier and the C 245BEE Amp four-channel power amplifier.
The M15HD is NAD's new high definition version of its M15 surround sound preamplifier. The device uses NAD's new Modular Design Construction, an architecture that places all circuitry on five easily removable plug-in cards for easy service and upgrades. It is the first Master Series component to do so.
The modules for the M15HD come packed with advanced features that include: dual 32-bit Aureus 7.1 high-speed DSPs by Texas Instruments; Dynamic EQ, Dynamic Volume, and MultEQ Pro room correction technologies by Audyssey; decoding for advanced audio formats, including Dolby True HD, Dolby Digital Plus and DTS-HD Master Audio; and Sigma Designs' VXP broadcast-quality image processor.
read more from smarthouse.com.au….
source: smarthouse.com