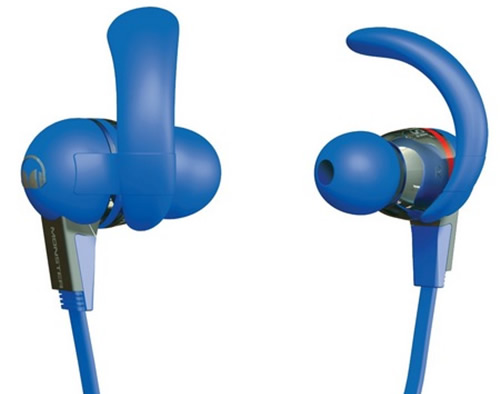 Attention runners, wind surfers, downhillers or any athlete who has been searching for a comfy and good sounding earphone that stays put! Your search is over.
Pros:
- Dang near stays locked in the ear – comfy fit
- Light weight and doesn't tangle
- Water/sweat proof (washable)
- Surprisingly good sounding – warm lower mid-range and gentle highs
- Isolated midrange to upper range frequencies well
- Many size/fit options
- Adjustable/angle-able tips for better sound
- Control work with iPhone and mic sounds clear in loud environments
Cons:
- Highs are friendly but not extended
- Micro dynamics and articulation could be better
- Probably too isolating for city biking, running, can't hear cars, people
Summary:
The iSports Immersion earphones well surpass the requirements for sport earphones. But the $180 price tag might be a bit of a bitter pill for some folks to swallow. But even with some audiophile quibbles, taking the package as a whole, a crash proof fit and very sturdy build, being water proof, warm clean bass and detailed mid-range and gentle highs, the iSport Immersion earphones don't let down. Now you just have to find a water proof portable bomb shelter for your iPhone!