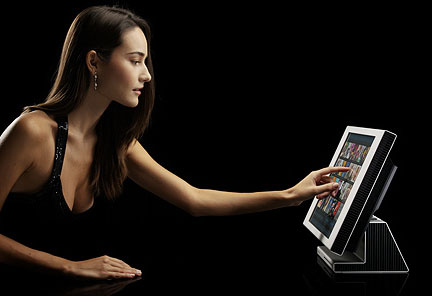 Meridian has created a $5000 touchscreen home media control center.  I ran across the release on avrev.com and was pulled in by the price tag only to find more entertainment on the left side of this image.  Oh my. Wait, which way to look?  What are they showing off? A touch screen or sex?
Well, never the less.  I was interested in find out more about the touch screen media center that cost way too much.  Not much to read about it in actuality, an over priced media center.
But it did conjure up fond memories of my first apartment in the early '00. I, and I alone, that I knew of, had a home media control center. An old Intel P120 running FreeBSD with an ultra stripped down GUI.  You know what that cost me, having 200 gigs of mp3s and movies.  Networked to all the shared folder in our apartment and our neighbors apartment, able to access mp3s and videos over a 100megabit switched home network. With the box hidden away and a bright shinny new monitor to view.  Contented to 30″ Sony for video and two 16″ JBL basespeakers and custom towers from my roommate.  My control center cost me about $100.
Ok, it wasn't touch screen, but it was at least command line when I wanted it to be.  Maybe we were special. We did have 11 computers in the apartment and we had LAN parties and 40oz all the time.
Well, a $5000 version better be damn nice, but you'll have to make that call.
Here is some info on it.
Oh wait, it is just a touchscreen.  Oh ok, a touchscreen with a "CD mechanism".  I think they mean a CDROM drive.  A $5000 touchscreen CD drive.  If you want to play music you'll have to shell out for Meridian's Storage One and Source Five.
Now I realize that I may not be the target audience for this product.  And I realize that for that target audience $5000 on a fancy touchscreen my not be unreasonable.  It is after all all about the perspective the size of your bank account offers you.  But seriously, if you are going to shell out, why not get a Mircosoft Surface?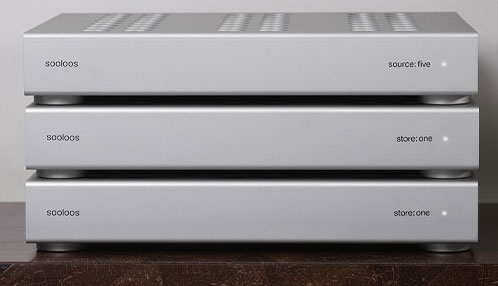 Well, at least it will keep the economy going.
Find out more about the Meridian / Sooloos Media Center at www.sooloos.com
Originally seen on avrev.com.  Thanks Avrev
images from www.sooloos.com