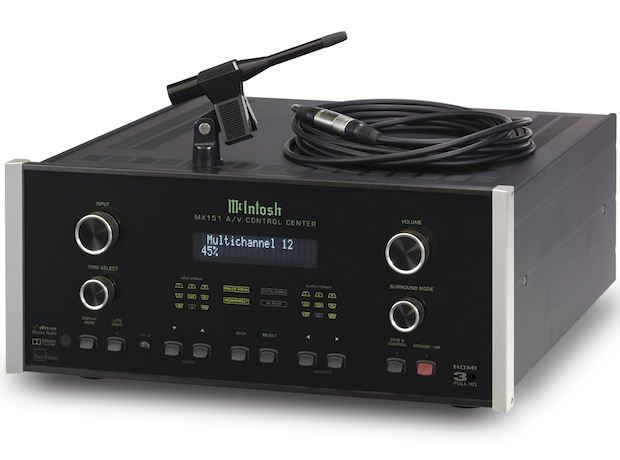 MCINTOSH EXPANDS ITS LEGENDARY PROCESSOR LINE WITHÂ THE RELEASE OF MX121 AND MX151 A/V CONTROL CENTERS
– Even More Advanced Home Theater Capabilities, Including 3D Pass-Through, Â Maximum Performance from All Advanced Sources;Â MX121 Offers Wireless Access to Music from Network Devices –

BINGHAMTON, NY, May 11, 2012 – McIntosh Laboratory, a global leader in home entertainment systems that has defined the highest quality in sound reproduction for over 60 years, is expanding its processor line with the debut of two high-performance A/V Control Centers, the MX121 (MSRP: $6,000) and MX151 (MSRP: $12,500). Designed to serve as ultimate-quality "nerve centers" of total home entertainment systems, both units offer advanced features and functionality far beyond those of typical A/V preamplifiers. Both units feature the most sophisticated HD digital audio decoding and HDMI video switching, including 3D Video Pass-Through capability.

McIntosh President Charlie Randall noted: "McIntosh has always been known for our unmatched reputation for the finest music reproduction. With our MX121 and MX151 Control Centers, we're taking the lead in home theater quality and performance, offering discerning consumers an elegant new way to get the iconic McIntosh experience while deriving maximum benefits from all of today's most advanced audio and video content sources. Both these control centers offer specific features geared to meet the lifestyle needs of our customers. For consumers looking for the ultimate audio-enhancing processor to complete their dream system, for instance, the MX151's unequalled audio section and powerful RoomPerfect™ offers the perfect solution. For consumers looking for a unit that will dramatically enhance their enjoyment of both movies and music, the MX121 is an ideal solution."
Maximum Benefit from All Today's A/V Content Sources
Both the MX121 and MX151 offer advanced solutions for controlling all today's advanced video and audio source components, offering users total ease-of-use, straightforward control and picture-perfect operation. The vast array of digital and analog inputs featured in both units can be custom labeled for simplified system operation and matched in volume level for a smooth transition between sources. Both feature built-in Dolby® TrueHD and DTS-HD Master Audio™ decoding for the latest Blu-ray disc soundtracks. Two channel stereo source materials may be played back in stereo or processed up to a 7.1 multi-channel using Dolby Pro Logic® IIx or DTS Neo:6 decoding. For added flexibility in multi-zone system building, both the MX121 and MX151 offer Dual Zone operation, allowing users to enjoy two audio / video zones of different media simultaneously in separate rooms with program selection and independent control.
MX121 A/V Control Center: Featuring Wireless Audio Streaming
The MX121 A/V Control Center, part of McIntosh's new "Home Theater Bundle," moves beyond the features and capabilities of the conventional Home Theater controller with a powerful suite of contemporary features geared toward today's music lover. It sets high performance home theater with new standards, providing users with an elegant solution for controlling and enjoying the maximum benefits of today's advanced video and audio source components. Notably, the unit's built-in wireless streaming feature allows for access of music from local network devices. Additionally, a wired USB input connection allows for music on portable devices to be played back with full size fidelity. To dramatically improve video performance, the MX121 features a robust up-converting video processing engine with advanced HDMI™ capability, ensuring that all non HD video sources are up converted to HDMI output and scaled at up to 1080P resolution. All of the latest audio video film formats are supported including 3D Pass-Through, as well as all legacy source formats such as VCR and even Laser Disk.
MX151: The Ultimate Reference Standard in High-Performance Audio Processing
For consumers with expansive home theaters who want an unsurpassed and even more powerful reference-standard audio processing section, the MX151 is literally without equal. In addition to providing the purest, most realistic audio experience possible from all of today's content sources, with the most advanced on-board RoomPerfect™ auto-equalization, it includes assignable balanced input and outputs and a dedicated analog phono section, as well as precision-tuned bass and treble tone controls. The MX151 also features a leading edge video processing engine with HDMI 3D
Pass Through capability, as well as Dolby TrueHD® and DTS-HD Master Audio.™
Both the MX151 and MX121 carry on the McIntosh tradition of sonic excellence with exceedingly low noise and distortion performance. Two balanced inputs combine with balanced outputs and a differential balanced audio topology to offer superb low-level linearity. Coaxial and optical digital audio inputs are also provided. An on-screen user interface is menu-driven and intuitive for ease of system set up. An RS232 input offers compatibility with third party remote control systems while McIntosh Power Control Ports enable both units to control an entire McIntosh system from a single hand-held remote.
* ROOMPERFECT is a registered trademark and the ROOMPERFECT logo is a trademark of Lyngdorf Audio A/S.
* DTS is a registered trademark and the DTS logos and Symbol are trademarks of DTS, Inc.
* Dolby and the Double D symbol are registered trademarks of Dolby Laboratories. HDMI, the HDMI Logo and High-Definition Multimedia Interface are trademarks or registered trademarks of HDMI Licensing LLC.
About McIntosh Laboratory
Since 1949, McIntosh Laboratory has been committed to excellence, innovation and quality. McIntosh continues to define the ultimate home entertainment experience for discriminating consumers around the world. Handcrafted in Binghamton, New York, its products deliver powerful performance and superlative engineering. The iconic "McIntosh Blue" Watt Meters have become the recognized symbol of quality audio globally. McIntosh systems are created to share music quality passion throughout generations. McIntosh Laboratory, Inc. is a D&M Holdings company. For more information visitwww.mcintoshlabs.com, or join us on Facebook: www.facebook.com/mcintoshlabs and Twitter@McIntoshLabsInc. All product and brand names with a trademark symbol are trademarks or registered trademarks of McIntosh Laboratory, Inc. All product and brand names with a trademark symbol are trademarks or registered trademarks of McIntosh Laboratory, Inc.
DISCLAIMER
Statements in this news release that are not statements of historical fact include forward looking statements regarding future events or the future financial performance of the company. We wish to caution you that such statements are just predictions and that actual events or results may differ materially. Forward looking statements involve a number of risks and uncertainties surrounding competitive and industry conditions, market acceptance for the company's products, risks of litigation, technological changes, developing industry standards and other factors related to the company's businesses. The Company reserves all of its rights.